Drive Safe in August as Motor Vehicle Accidents Rise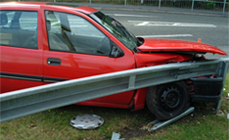 You may think winter snowfall makes for treacherous driving. But government figures show August is actually the most dangerous month on the roads, making it an important time to take precautions.
Based on records dating back to 1994, the National Highway Traffic Safety Administration (NHTSA) reports more Americans die in car crashes in August than at any other time of the year. In August 2009, that number totaled 2,864 deaths.
September had the next highest rate of traffic fatalities, followed by July. Weekends are the deadliest time on the roads throughout the year. Nationwide in 2009, there were an average of 123 deaths each day on Saturdays and 107 deaths on Sunday.
Experts say motor vehicle deaths rise in August because more people are on the road traveling for vacation, taking day trips and attending summer events.
Because of these factors, it is paramount to practice safe driving. Here, our Massachusetts personal injury lawyers offer safety tips to protect you and your family:
Do not drink and drive.
Travel slowly at night and make sure you are familiar with your route.
Reduce distractions by putting away your cell phone and GPS.
When traveling with children, explain you must concentrate on the road.
On the highway, make sure children have distractions such as books and games.
Never leave a child unattended in a vehicle.
Wear your seat belt.
Do not speed.
Talk to teenagers about taking safety precautions such as limiting passengers and avoiding night driving.

The Massachusetts personal injury lawyers at Breakstone, White & Gluck have over 80 years combined experience successfully representing clients injured by motor vehicle accidents. If you have been injured in an auto accident, contact us today for a free legal consultation. We can be reached at 617-726-7676 or use our contact form.