Toy Safety: 10 Worst List Highlights Dangerous Toys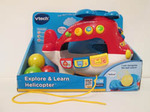 As the holiday shopping season begins, a watchdog organization is reminding consumers that not every toy on the shelves is safe.
The organization W.A.T.C.H., or World Against Toys Causing Harm, Inc., has released its annual list of 2012 "10 Worst Toys." W.A.T.C.H. says the toys on the list can cause children to choke, have sharp parts and carry misleading labels. The defective toys can be found online and in stores, at major retailers such as Toys "R" Us, Walmart and Amazon.
Dangerous toys seriously injure and kill children every year in the United States. In 2010, 17 children were killed in toy-related accidents. The majority were related to choking on balloons, small balls and rubber balls. The same year, about 181,500 children younger than 15 were treated in hospital emergency departments for toy-related injuries.
If you are shopping for young children, take a look at this year's "10 Worst Toys" list. We have also provided a list of websites to help you make safe purchases below.
The Avengers Gamma Green Smash Fists
Potential for blunt impact injuries and there are no warnings on the package.
Playful Xylophone
Potential for choking injuries.
Power Rangers Super Samurai Shogun Helmet
Potential for impact and puncture wound injuries.
Water Balloon Launcher
Potential for choking and facial injuries. Varying age recommendations online and on the package.
N-Force Vendetta Double Sword
Potential for Impact injuries.
Explore & Learn Helicopter
Potential for strangulation and entanglement injuries. Cord is twice the length allowed by law.
Spinner Shark 4-Wheel Kneeboard
Potential for impact injuries.
Dart Zone Quick Fire 12 Dart Gun
Potential for eye injuries.
Bongo Ball
Potential for impact and other serious injuries. Children are encouraged to climb inside the inflatable ball. The toy and the packaging have contradicting instructions about supervision.
Magnetic Fishing Game
Potential for choking injuries. Different age recommendations online and on the packaging.
Related:
Toy Safety Fact Sheet, Safe Kids.
Toy Safety, U.S. PIRG.
Dangerous Toy Report Details Lead, Choking Hazards, Breakstone, White & Gluck.