Product Recall: More than 10,000 Fuji Bicycles Recalled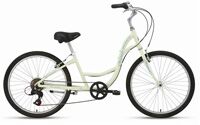 The U.S. Consumer Product Safety Commission announced the recall this week of more than 10,000 defective bicycles after reports the product's frame was breaking.
Fuji Saratoga Women's Bicycles recalled about 10,500 bicycles sold nationwide from November 2007 through December 2011. The bicycles were recalled after the company became aware of 12 reports of bicycle frames breaking. There were two injuries reported, including a head laceration requiring 20 stitches.
The product's defect is its frame was breaking in the center of the downtube during use, causing bicyclists to lose control and fall. Bicyclists are instructed to stop riding and seek a replacement bike frame.
About the recalled Fuji women's cruisers bicycles:
2008 to 2010 models of Saratoga 1.0, Saratoga 2.0, Saratoga 3.0 and Saratoga 4.0. The model type will be printed on the bike.
The bikes come in various colors.
The bikes will have the words "Fuji" and "Saratoga" alone or "Saratoga" printed on the frame.
Serial numbers beginning with ICFJ7, ICFJ8, ICFJ9, ICFJ10 and ICFJ11. The serial number is located on the bottom of the frame near the crank.
The defective products were imported by Advanced Sports, Inc. of Philadelphia and manufactured in China. They were sold at specialty bike shops.
Customers are instructed to obtain a free replacement frame. They can contact Advanced Sports Inc. toll-free at 888-286-6263 between 8 a.m. and 4:30 p.m. Monday through Friday or visit www.fujibikes.com. They can also return the bike to any authorized Fuji Bicycle dealer for the free part.
Click here for more information on this recall.
In a smaller recall, the Mountain Bicycle Handlebar Stem has been recalled in the U.S. and Canada. Some 213 units were recalled in the U.S. and 83 in Canada by the importer, Shimano American Corp. of Irvine, Calif. The defective bicycles were sold at REI stores nationwide from October 2009 to November 2010 for about $120.
The bicycles were recalled because the bolt holding the front plate of the stem to the stem body can be pulled out of the threads while the bike is being ridden, causing the rider to fall. There has been one report of a rider falling and sustaining torso and arm injuries. Click here for more information on this recall.
The Boston product liability lawyers at Breakstone, White & Gluck have over 80 years combined experience handling complex cases involving serious personal injuries, wrongful death and defective products. We have obtained clients compensation in cases involving defective motor vehicles, recalled medical devices and dangerous pharmaceuticals.
If you have been injured, it is important to learn your rights and how long you may have to file a claim. For a free legal consultation, contact us today at 800-379-1244 or 617-723-7676 or use our contact form.