Cooking a Safe Thanksgiving Dinner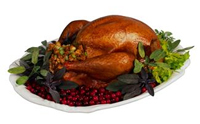 At Thanksgiving, the focus is on enjoying good food and family. But attention must also be paid to fire safety because Thanksgiving sees more residential fire deaths, injuries and property damage than any other day of the year.
These fires are preventable with solid planning and good communication among those who are preparing the meal and others in the home. The Massachusetts personal injury lawyers at Breakstone, White & Gluck of Boston offer these tips to keep your holiday safe:
Never leave food cooking unattended. If you have to leave the kitchen, turn the stove off or ask someone to watch the food.
Make sure you have properly working smoke alarms near your kitchen.
Keep oven mitts, wooden utensils, towels and other materials away from the stovetop.
Use a timer to remind you when to stop cooking.
Avoid using candles, especially near young children.
Make sure cords to electrical tools and appliances, such as electric knives, are not dangling within reach of a child.
Make sure children stay away from liquids and soft foods such as gravy and vegetables until they cool down. If these foods are too hot, they can cause skin burns.
What To Do If You Have A Cooking Fire
Keep a small fire extinguisher handy in your kitchen, either under the sink or close by in a closet. Inspect it periodically and make sure it is properly charged. If you have a cooking fire, it is best to call 911, wait outdoors for the fire department.
If it's an oven fire, turn off the heat and keep the door closed. For small grease fires, smother the fire by sliding the lid over the pan and turning off the stove top. Leave the pan covered until it is cool. Never use water to extinguish a grease fire. You could be badly burned.
If you try to put out the fire, be sure everyone else is out of the home and you have a clear exit path.

The Massachusetts personal injury lawyers at Breakstone, White & Gluck of Boston promote safety through education. We are experienced in handling complex cases involving personal injuries, wrongful deaths and premises liability. If you have been injured, contact us today for a free legal consultation at 800-379-1244 or 617-723-7676 or use our contact form.