One Million Defective Baby Strollers Recalled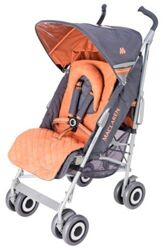 The Consumer Product Safety Commission (CPSC) has reannounced the recall of an unsafe baby stroller that is connected to 149 reported incidents, involving fingertip amputations, lacerations and other personal injuries.
The CPSC reannounced the product recall of Maclaren strollers sold from 1999 to November 2009. The recall was reannounced in cooperation with the distributor, Maclaren USA, Inc., of South Norwalk, Conn.
Approximately one million defective baby strollers were sold nationwide through various retailers, including Babies R Us and Target. The strollers are defective because they have a hinge mechanism that can amputate a child's fingers or cause a laceration when the consumer opens and unfolds the stroller.
The CPSC advises parents to stop using the defective baby stroller immediately and contact the company for a free repair kit, which includes a fabric cover for the hinge mechanism.
When the product was first recalled in 2009, the CPSC had received reports of 15 incidents, including 12 finger amputations. The CPSC made the reannouncement after the number climbed to 149, including 37 injuries that occurred after the 2009 recall. To date, the Maclaren stroller recall involves 17 overall reports of fingertip amputations as well as other serious personal injuries.
Parents can determine whether they have a defective children's product by checking to see if the word "Maclaren" is printed on the stroller. If so, they should contact the company.
The affected models are Volo, Triump, Quest Sport, Quest Mod, Techno XT, Techno XLR, Twin Triumph, Twin Techno and Easy Traveler. The recalled strollers are single and double umbrella models.
Models sold after May 2010 have a different hinge design and are not included in the product recall.
Contact our dedicated Boston attorneys today
The Boston Massachusetts product liability lawyers at Breakstone, White & Gluck have over 80 years combined experience handling cases involving serious personal injury. We are experienced in handling injuries resulting from product recalls, defective motor vehicles and unsafe children's toys and products.
If you have a case, contact us today at 617-723-7676 or use our contact form.