Thanksgiving Driving Safety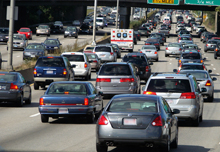 Thanksgiving is a special time of year when family and friends gather for tasty food and warm conversation. But before the turkey can be carved, many people have to travel. The majority of holiday travelers are driving. As they plan their trips, the National Highway Traffic Safety Administration (NHTSA) is urging travelers to buckle up through its campaign, "Buckle Up America. Every Trip. Every Time." Other government agencies are stressing good planning to help drivers avoid motor vehicle accidents.
Seat Belt Use
During the 2009 Thanksgiving holiday travel weekend, 303 passenger vehicle occupants died in motor vehicle crashes, according to the NHTSA. The majority of these deaths occurred at night, making it important to buckle up at all hours.
Plan Travel Times
The Wednesday before the holiday and Sunday following are the busiest travel days. If possible, plan to travel at other times.
Massachusetts 511 Traffic Updates
Visit the Massachusetts 511 website before you travel. It reports on traffic, car accidents and travel conditions throughout the state. Click here for more information.
Fuel Up
Make sure your gas tank is full before you start traveling.
Slow Down
Expect to have to travel below the speed limit in heavy traffic and make sure not to follow other vehicles too closely.
Stay Calm
Expect to see aggressive drivers on the road. Move away and never engage them.
Drowsy Driving
Drowsy driving causes more than 100,000 car crashes each year, resulting in 40,000 injuries and 1,550 deaths, according to the NHTSA. Rest up before making the drive.

The Boston car accident lawyers at Breakstone, White & Gluck are experienced in handling collisions throughout Massachusetts, including in the Worcester and Waltham regions, along with Cape Cod. If you have been injured in an auto accident, it is important to learn your legal rights. Contact us today for a free legal consultation at 800-379-1244 or 617-723-7676. You can also e-mail us using our contact form.