Parents: Time to Talk to Teen Drivers About Safety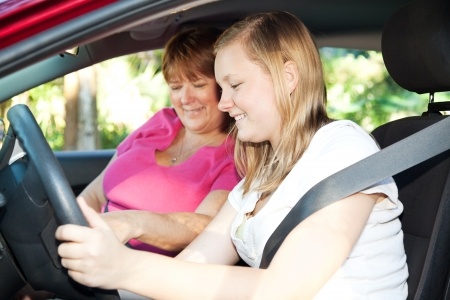 With the snowbanks nearly gone, your teen driver is likely asking for the car keys. Now is a very good time to talk to them about paying attention on the roads and following traffic laws.
Young people ages 16 to 19 are nearly three times more likely to be in a fatal motor vehicle crash than other age groups. While cell phone use is a frequent cause, there is also simple inexperience. If you are a parent, you know this conversation takes a lot of work and a lot of repetition.
We offer these safety tips for teen drivers:
Always wear your seat belt.
Keep your hands on the wheel and your eyes on the road.
Do not take phone calls while driving. The caller can leave a voicemail.
Remember that under Massachusetts Junior Operator License, teen drivers are not allowed to use cell phones behind the wheel. You cannot send texts or make phone calls. If you are caught, you may be fined and your license suspended. It is important to think about these steps for the safety of others and to keep yourself out of trouble.
If you must use your phone, pull off the road to a safe area. Put the car in park and remove the keys. Or ask a passenger to call or answer for you.
Travel with the phone in the best place to reduce distraction. If your phone ringing or lighting up with messages distracts you, set it in a bag in the backseat.
Remember that whatever is happening on your phone can wait, whether it is a social media post, e-mail or photo. It really can.
Be mindful of distractions created by loud music or intense conversation. Explain to passengers you need to limit conversation while driving.
Remember you cannot carry passengers under the age of 18 during the first six months with a Massachusetts Junior Operator License. The one exception is you can drive with siblings.
Do not look up phone numbers or GPS directions on your phone while driving.
Many cars have dashboard GPS systems and infotainment systems. Turn them off until you are more experienced.
Other Safe Driving Habits
Never consume alcohol and drive. No driver should, but you are more likely than older drivers to get in car accidents because you lack driving experience.
Before entering your vehicle, look around for other cars, trucks and hazards. Make sure you provide bicyclists and pedestrians extra time to pass.
Shift your eyes every two seconds and check the rear-view mirror every five to eight seconds. This will help you focus on driving.
Do not drive drowsy. If you are tired, you will be less capable of responding to potential car accidents. The Massachusetts Junior Operator License restricts young drivers from traveling between 12:30 a.m. and 5 a.m., unless accompanied by a parent. This is a good step but realize you always have to be aware of your fatigue level and make good decisions at all hours.
Even if you have your license, keep practicing. For instance, if you are weak backing up, practice backing into a parking space in an empty parking lot with a parent. Keep practicing because you will need these skills going forward and will not always have the time to practice.
There are construction work zones in many places. Be extra attentive, slow down and watch for workers.
Check your speed regularly and slow down. A little extra space between you and the car in front of you can make a big difference toward preventing a car accident.
Drive defensively. Expect the unexpected will happen and you may have to stop or change lanes.
Signal your intentions to turn or switch lanes early enough to give others time to prepare.
Do not drive on the highway on your own before you are ready.
Limit the number of times you drive your friends home after sports practices, to the mail or school events. Every teenager looks forward to driving around with their friends, but teens are more likely to become distracted this way.
Be careful in school zones and school buses. Slow down and watch out for teenagers and children walking or riding bikes. You are required to stop when school buses stop.

About Breakstone, White & Gluck
The Boston law firm of Breakstone, White & Gluck is committed to safety and helping individuals and families who have been injured due to the negligent operation of a motor vehicle. If you have been injured, learn your rights. For a free legal consultation, contact us at 800-379-1244 or 617-723-7676 or use our contact form.