Teen Driver Safety Week Time to Talk About Safe Driving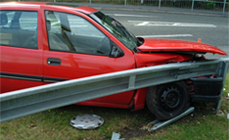 National Teen Driver Safety Week, which takes place from October 14 – October 20, is a good time for parents and teenagers to talk about driving safety.
Traffic crashes are the leading cause of death for teenagers in the United States. Common causes are inexperience, failure to wear a seat belt, drinking and driving, speeding and distracted driving.
Even if you have already had a conversation in the past, we encourage parents to speak to their teens about preventing car accidents and include these points:
Understand the law.The Massachusetts Junior Operator Law places restrictions on drivers from traveling with passengers under 18 during their first six months of holding a license. The lone exception is for siblings. Junior operators are also forbidden from driving between the hours of 12:30 a.m. and 5:00 a.m.
Wear a seat belt. This reminder is always important. Teenage drivers and their passengers have some of the lowest rates of seat belt use, according to the National Highway Traffic Safety Administration (NHTSA).
No talking or texting on the cell phone. Texting while driving is illegal for any person driving in Massachusetts, and using a cell phone while driving is against the law in Massachusetts for drivers under 18. Teens face steep penalties for violations of either law. For first offenses, they face a 60-day license suspension and other sanctions. Suggest your teen put their cell phone out of sight or in the back seat when driving.
Limit food and beverage consumption. Eating while driving is very distracting. Ask your teen not to eat and to limit beverage consumption while driving. Suggest they eat before leaving home or at another safe place.
Limit driving with other teens. Conversation can be distracting for any driver, especially teens who may be excited about enjoying freedom of the road without an adult.
Avoid loud music. Music of any volume can be a distraction while driving, but loud music and adjusting the radio controls can be especially hazardous for teenage drivers.
No grooming. Remind teens they cannot focus on the road while grooming.
No speeding. Remind teen drivers to watch the speed limit, especially in school zones where they may encounter young children.
You can also:
Drive with your teen. Sit in the passenger seat with your teenager on a regular basis and observe how they handle basic driving tasks, such as stop lights, passing other cars, keeping a safe distance on the highway, and changing lanes. By not using or even checking your cell phone, you can set a good example for your teen. Also refrain from heavy conversation. Finally, unless safety is at stake, hold your suggestions until a few hours later, when you are out of the vehicle and they won't tense up or get anxious behind the wheel.
Additional Resources
Massachusetts Junior Operator License Requirements
Tips on the Massachusetts Junior Operator Law for Parents

The Boston car accident lawyers at Breakstone, White & Gluck have over 100 years combined experience representing individuals injured in motor vehicle accidents. If you have been injured, learn your rights. Contact us toll-free at 800-379-1244 or 617-723-7676 or use our contact form.