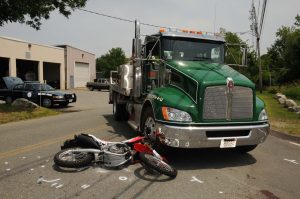 Attorney Marc Breakstone recently settled a wrongful death case for the family of a motorcyclist for $3.5 million. The case was settled in March 2016.
The motorcyclist was tragically killed by a waste disposal truck in West Bridgewater in 2013. The truck, which was being operated by a subcontractor, pulled out across the road in the path of the motorcyclist. The motorcyclist applied the brakes and laid down his motorcycle, attempting to avoid the collision and struck the defendant's truck at less than 5 mph.
The motorcyclist continued to roll under the truck. The truck driver did not see him and ran the rear tires over his body, killing him.