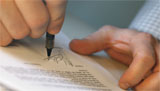 The proposition is all too familiar: You or your children want to participate in an activity. It could be at school, for a sporting event, in connection with a walk-a-thon or bike-a-thon, or in some other activity where there is a risk involved. Maybe the event is really risky, such as learning to drive a race car, or learning how to rock climb. Part of the price of admission to all of these activities is your signature at the bottom of a release or waiver of liability.
The language of the typical release is usually very broad and even includes the requirement that you indemnify the organization against related claims. You will be binding not only yourself, but your family, and in the case of a wrongful death, your heirs.
Are they legal? Most of the time yes, though there are some important exceptions which will be discussed below.