Posts Tagged 'tractor-trailers'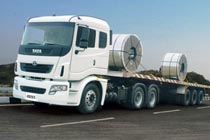 Unsecured truck loads are a growing problem endangering drivers across the country. Massachusetts has seen two of these fatal car accidents in the past two months.
In 2004, the AAA Foundation for Traffic Safety reported 25,000 motor vehicle accidents are caused each year by unsecured materials on highways.
The problem is most prevalent in California, which had 32 million registered vehicles in 2007 – more than twice the number of any other state, according to the New York Times. The California state transportation department reported that over a two-year period between 2005 and 2007, 155 people were killed as the result of debris from unsecured truck loads.
In some of these fatal trucking accidents, authorities file criminal charges against drivers and other employees. When these motor vehicle accidents result from negligence, drivers and companies may also face wrongful death lawsuits in civil court.
Some states have strengthened the penalty for accidents involving tractor-trailers carrying unsecured loads such as construction equipment, building supplies, wood and furniture. Several years ago, Washington state passed Maria's Law, named for Maria Federici, a young woman in her 20s who was blinded and disfigured when a piece of furniture flew off a trailer and smashed her windshield.
Maria's Law made hauling an unsecured load causing injury a gross misdemeanor, carrying maximum penalty of one year in jail and a $5,000 fine.
In Massachusetts, a 27-year-old Lynn man died Sept. 19 when a 400-pound tire being hauled by a truck broke loose on Interstate 93 in Somerville. The truck was owned by Ryder Truck in Braintree and leased to Sullivan Tire. The tires spilled across the median and smashed the windshield of the Lynn man's car, throwing his car toward a retaining wall.
The 2005 Freightliner M2 flatbed truck was carrying tires containing a tire fill. This material made them heavier than standard tires filled with air.
On Aug. 12, a backhoe fell off a National Grid truck traveling on Interstate 495 in Southborough. The backhoe struck a van, killing an elderly passenger and causing serious personal injuries to others in the vehicle.
Click here to read a 2007 New York Times article about unsecured truck loads.
Read More