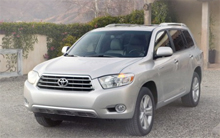 A defective crankshaft pulley is driving a new Toyota recall that will affect thousands of car owners. The Nov. 8 recall of 550,000 vehicles includes 420,000 cars in the United States. Toyota has now issued recalls for more than 13 million vehicles nationwide since September 2009. More vehicles have been recalled in other countries.
Toyota recalled the vehicles due to a crankshaft pulley defect that may cause steering problems. The vehicles have V6 engines and the U.S. models include 283,200 Toyota brand cars like Camry and Highlander vehicles and 137,000 Lexus vehicles.
Toyota said no injuries have been reported. The car manufacturer said the crankshaft pulley may have an inadequate amount of adhesive agent between the outer ring and the inner ring. This can cause the crankshaft pulley to become misaligned with the inner ring, possibly causing a noise or warning signal to light. When this happens, the belt for the power steering pump can detach from the pulley, making it hard for drivers to steer.
Toyota recalled 8 million vehicles between Nov. 2009 and the first quarter of 2010, most for defective pedals. In April 2010, the United States government fined the world's largest automaker a record $16 million for its delayed response in notifying the National Highway Traffic Safety Administration regarding the defects.
Recalls have continued through 2011, including last February's recall of 2.17 million vehicles to repair mechanical defects that could cause the cars to accelerate out of control.
The Nov. 8 recall involves these defective motor vehicles: the 2004 and 2005 Camry, Highlander, Sienna and Solara; the 2004 Avalon; and the 2006 Highlander HV. The affected Lexus models are the 2004 and 2005 ES 330 and RX 330 and the 2006 RX 400h.
In January, Toyota will mail car owners a notification to make an appointment to have their vehicle inspected. Toyota will fix any vehicle in need of repair at no cost to consumers.
Continue reading