Posts Tagged '"Toyota recall"'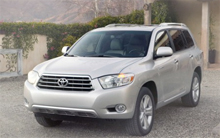 A defective crankshaft pulley is driving a new Toyota recall that will affect thousands of car owners. The Nov. 8 recall of 550,000 vehicles includes 420,000 cars in the United States. Toyota has now issued recalls for more than 13 million vehicles nationwide since September 2009. More vehicles have been recalled in other countries.
Toyota recalled the vehicles due to a crankshaft pulley defect that may cause steering problems. The vehicles have V6 engines and the U.S. models include 283,200 Toyota brand cars like Camry and Highlander vehicles and 137,000 Lexus vehicles.
Toyota said no injuries have been reported. The car manufacturer said the crankshaft pulley may have an inadequate amount of adhesive agent between the outer ring and the inner ring. This can cause the crankshaft pulley to become misaligned with the inner ring, possibly causing a noise or warning signal to light. When this happens, the belt for the power steering pump can detach from the pulley, making it hard for drivers to steer.
Toyota recalled 8 million vehicles between Nov. 2009 and the first quarter of 2010, most for defective pedals. In April 2010, the United States government fined the world's largest automaker a record $16 million for its delayed response in notifying the National Highway Traffic Safety Administration regarding the defects.
Recalls have continued through 2011, including last February's recall of 2.17 million vehicles to repair mechanical defects that could cause the cars to accelerate out of control.
The Nov. 8 recall involves these defective motor vehicles: the 2004 and 2005 Camry, Highlander, Sienna and Solara; the 2004 Avalon; and the 2006 Highlander HV. The affected Lexus models are the 2004 and 2005 ES 330 and RX 330 and the 2006 RX 400h.
In January, Toyota will mail car owners a notification to make an appointment to have their vehicle inspected. Toyota will fix any vehicle in need of repair at no cost to consumers.
Read More
Toyota recalled 270,000 Lexus and Crown vehicles sold around the world this week due to possible contamination during valve spring manufacturing. The company has now recalled more than 8.5 million vehicles for sticking gas pedals, anti-lock brake software glitches and a host of other safety problems.
Massachusetts Lexus owners impacted by the motor vehicle recall will receive official notice from Toyota by first-class mail. Owners will be asked to contact their local Lexus dealer to have the engine's valve spring replaced at no charge.
Toyota said a foreign substance involved in manufacturing may have contaminated a small number of the valves. If a vehicle is defective, drivers may notice idling or abnormal engine noise. The engine could also stop while the vehicle is in operation.
Of the 270,000 recalled vehicles, 138,000 were sold in the United States, 91,903 in Japan, 15,000 in Europe, 10,000 in the Middle East, 6,000 in China and 4,000 in Canada.
The vehicles were sold between July 2005 and August 2008. They include Lexus models GS350, GS450h, GS460, IS350, LS460, LS600h, LS600hl and Crown models.
This Lexus recall comes just days after Toyota recalled another Lexus model – the Lexus HS250h – because it spilled too much gasoline during crash tests. The tests were part of yearly safety reviews by the National Highway Traffic Safety Administration (NHTSA).
In May, Toyota paid a record $16.4 million fine in the United States for responding too slowly when motor vehicle safety problems emerged. The fine was the largest civil penalty ever assessed against an auto maker by the NHTSA.
The NHTSA has linked 89 motor vehicle deaths and 57 injuries over the last decade to Toyota accelerator problems. Overall, it has received more than 6,200 complaints involving unintended acceleration in Toyota's cars.
Toyota faces more than 200 lawsuits in the United States. The cases involve defective automobiles, lower resale value of Toyota vehicles and stock price declines. The lawsuits, including 130 class-action lawsuits, are being heard in Southern California, near Toyota's Torrance headquarters.
Read More