Posts Tagged '"teen driving deaths"'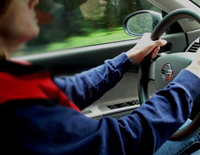 After several years of decreases in U.S. teen driving deaths, new data shows the number climbed slightly in the first half of 2011.
Car accidents have long been the leading cause of death among U.S. teens, accounting for more than one in three fatalities, according to the Centers for Disease Control and Prevention (CDC). But new preliminary data collected by the Governors Highway Safety Association (GHSA) shows an increase in teen driving deaths as the number of overall highway deaths is declining – as is the number of overall teen deaths. The data was submitted to the National Highway Traffic Safety Administration (NHTSA).
The data shows the number of 16-year-olds killed increased from 80 in the first half of 2010 to 93 in the first six months of 2011. The number of 17-year-olds killed rose from 110 to 118 during the same period.
The nation has not seen an increase in eight years. During that time, many states have passed graduated driving laws for teenagers with a goal of reducing car accident deaths. The Massachusetts Junior Operator Law states drivers under 18 cannot drive with another passenger under 18. The only exception is for for siblings. Teen drivers are also not allowed to drive between 12:30 a.m. and 5 a.m. In September 2010, the Safe Driver Law took effect, prohibiting drivers under 18 from using cell phones while driving.
In a Washington Post article published Feb. 17, Barbara Harsha, executive director of GHSA, called on Congress to provide financial incentives to states which have strengthened teen driving laws and for the NHTSA to work on efforts to reduce distracted driving among teens and increase seat belt use.
A Pew Research Center study showed 43 percent of teens have talked on a cell phone while driving and 48 percent have been in a car with an operator who was texting while driving.
Related: