Posts Tagged '"seat belt use"'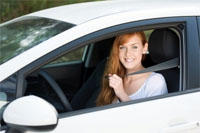 When it comes to seat belts, Massachusetts may need to buckle up and strengthen its laws if it wants a higher rating from one safety organization.
Massachusetts was among 29 states which received a secondary rating from the Advocates for Highway & Auto Safety in its annual report released in January. In the 2014 "Roadmap of State Highway Safety Laws" report, the group gave 10 states – including Rhode Island – its highest rating. Poor ratings were given to New Hampshire and 10 other states.
Massachusetts received strong marks for teen driving laws, but fell short in other areas, including its lack of a primary seat belt law.
In Massachusetts, the law governing seat belt use is M.G.L. c. 90 § 13A. Drivers and passengers are required to wear seat belts, but police can only issue citations for violations if they pull over a vehicle for another offense. Each driver and occupant over age 16 shall be fined $25 for failing to wear a seat belt. Drivers can be fined for occupants 12 to 16 years old. Children 12 and younger must follow the Massachusetts Child Passenger Safety Law, M.G.L. c. 90, §7AA.
Across the country, 33 states and the District of Columbia have primary enforcement laws for front seat passengers and 17 have these laws for back seat passengers.
The National Highway Traffic Safety Administration (NHTSA) has long cited seat belts as the most effective way to reduce the risk of death in a car crash. In 2012, the agency credits seat belts with saving 12,174 lives in auto accidents.
In Massachusetts, we have fiercely debated our seat belt laws. Gov. Michael Dukakis signed a mandatory seat belt law in 1985. But a year later, opponents organized a citizen campaign and repealed the measure at the ballot box.
While today's law requires drivers and passengers to wear seat belts, in 2009 the NHTSA surveyed seat belt use across the country and ranked Massachusetts last for compliance.
At that time, 67 percent of occupants of vehicles in Massachusetts were wearing seat belts compared to the national average of 83 percent among other states.
Recent state figures report a greater compliance rate. The 2012 Massachusetts Safety Belt Usage Observation Study, prepared for Massachusetts Highway Safety Division reported a 73 percent compliance rate in 2011, an increase from 50 percent in 2000.
Attorney Ronald Gluck of Breakstone, White and Gluck stated that "fortunately, over the years, our firm has seen a significant reduction in cases where the injuries are directly tied to the failure of occupants to wear seat belts. "
Related:
2014 Roadmap of Highway Safety Laws, Advocates for Highway & Auto Safety.
2012 Massachusetts Safety Belt Observation Study, Massachusetts Highway Safety Division.
Read More