Posts Tagged 'Safe Routes to School'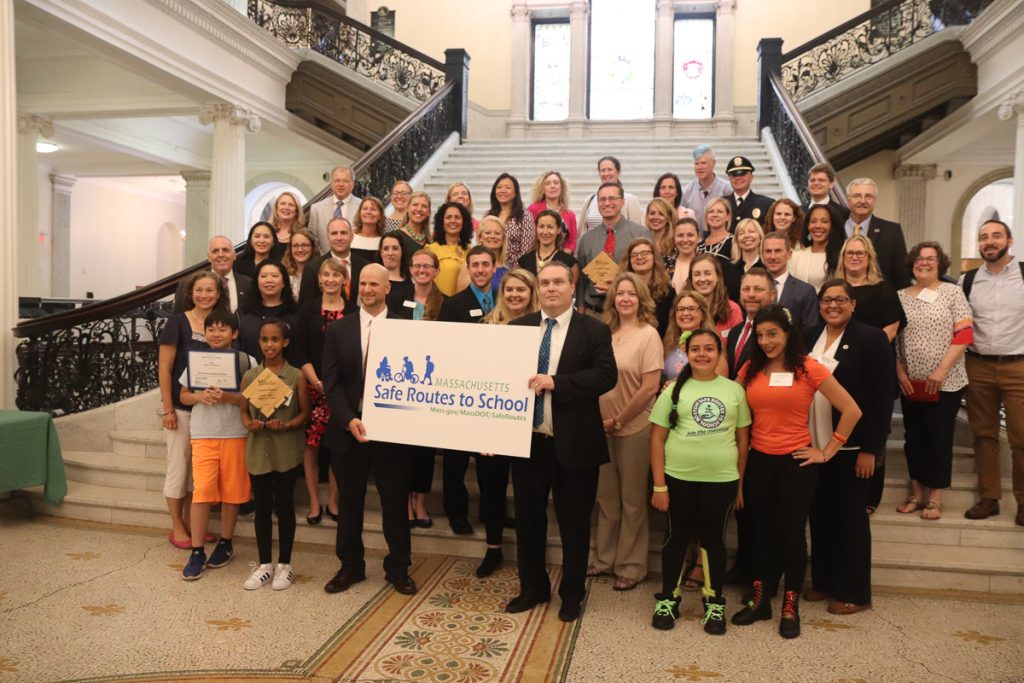 Breakstone, White & Gluck was pleased to celebrate the Massachusetts Safe Routes to School Partnership today. Attorney David W. White joined a gathering at the State House which recognized schools for outstanding work in teaching children critical skills, how to walk and bike to school safely. The ceremony was a nice opportunity to learn about Safe Routes' work over the past year and get a preview of what's ahead.
Breakstone, White & Gluck and our Project KidSafe campaign have supported Safe Routes' work for the past four years. Wearing a bicycle helmet is one of the first lessons Safe Routes teaches children. We donate 400 bicycle helmets each year to help Safe Routes reach as many children as possible. 
We make the donation, but Safe Routes' coordinators choose which communities receive helmets, based on their unique knowledge of the communities. The program's coordinators work all over the state, from Boston and Cambridge to Martha's Vineyard to Western Massachusetts.  In some cases, helmets are given to an entire class. In other cases, a Safe Routes coordinator will send a few helmets as needed.
Safe Routes programming is offered in all 50 states. In Massachusetts, the pilot program was first launched in 2000. With federal funding, the program was restructured in 2006 and became an initiative of the Massachusetts Department of Transportation and MassRIDES. More than a decade later, the program continues strong and is now offered in more than 800 schools in 206 communities in Massachusetts. Each program works to implement the Five E's: Education, Encouragement, Enforcement, Evaluation and Engineering.
Students learn safety skills in school programs, special events and community events and rodeos. School programming includes Massachusetts Walk, Bike and Roll to School Day and the winter version, Winter Walk and Roll to School Day. 
Diane Hanson, Mass Rides program director, spoke to start the ceremony. Keynote speaker was Jonathan Gulliver, the MassDOT Highway Commissioner. Pat Kelsey, outreach supervisor for MassRIDES, announced the school awards.
About Project KidSafe
Breakstone, White & Gluck founded Project KidSafe in 2013 and we have donated over 20,000 bicycle helmets to children. In addition to Safe Routes, we have partnered with over 40 schools, police departments, bicycle committees and community organizations mostly in the Boston area.
Why bicycle helmets? With decades of experience representing cyclists and those injured in motor vehicle crashes, our personal injury attorneys have seen the devastation caused by head injuries first hand.  Young cyclists who are 16 and younger must wear bicycle helmets under Massachusetts law, but many ride without any protection. There are many reasons: helmets are expensive, hard to fit and cyclists (young and old) often say they are uncomfortable to wear. But through Project KidSafe, Breakstone, White & Gluck is committed to limiting and preventing head injuries in Massachusetts, and encouraging children to understand the importance of bicycle helmets early on. 
Learn more about Breakstone, White & Gluck.
Learn more about Project KidSafe.