Posts Tagged '"Pool Safely"'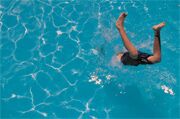 The Consumer Product Safety Commission (CPSC) reports pool drownings have claimed the lives of 90 children in the U.S. since Memorial Day, a sober reminder for parents and caregivers to review how they are protecting their youth.
These figures were released for Pool Safely Day, an event being observed nationwide this week, from July 22 to July 29, 2012. In Massachusetts, the South Shore YMCA in Quincy and the Boys & Girls Club of Taunton were scheduled to host educational events.
The CPSC reported 90 children under age 15 have suffered swimming pool drownings and an additional 106 children in the same age category have required emergency response for near-drowning incidents at pools. The figures were released by the CPSC's Pool Safely: Simple Steps Save Lives campaign.
The figures show younger children are most vulnerable, with 72 percent of the drowning victims younger than 5 years old.
Texas saw 13 drownings, the highest number nationwide through the mid-summer report, with California, New York, North Carolina, Ohio and Pennsylvania each reporting 5 swimming pool drownings.
Parents should make sure their children have taken swimming lessons and instruct them on ways to protect themselves, such as to stay away from pool drains, pipes and other openings; stay in certain areas of the pool and only use diving boards after asking parents. Children 13 and older should also be trained in CPR.
Parents and caregivers should also:
Stay close and alert when watching children in and around the pool.
Never leave children unattended.
Learn CPR.
If you own a pool or spa, make sure it has appropriate safety equipment. At pools, that includes fencing, a lockable safety cover, drain covers which match federal requirements, life rings and a reaching pool. Spas should have lockable covers for when not in use.
Click here for a full list of pool safety tips from the Boston personal injury lawyers at Breakstone, White & Gluck of Massachusetts.
Related: