Posts Tagged 'motorcycles'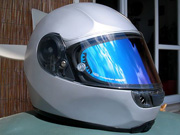 For motorcyclists, the most effective way to prevent a brain injury is to wear a helmet. An unhelmeted motorcyclist is 40 percent more likely to suffer a fatal head injury in a motorcycle crash than one wearing a helmet, according to the National Highway Traffic Safety Administration (NHTSA).
In Massachusetts and 19 other states, wearing a motorcycle helmet is the law for all riders. Twenty eight other states have laws requiring certain motorcyclists wear helmets. Three states, including New Hampshire, do not require motorcycle helmets for any riders.
Helmet use has grown in recent years as safety education has increased and manufacturers produce lighter-weight helmets. Helmet use increased from 48 percent of U.S. motorcyclists in 2005 to 67 percent in 2009, according to the NHTSA.
If you are a motorcyclist, it is important to protect yourself from motorcycle accidents as well as comply with the law. Our Boston motorcycle accident lawyers share some background information and tips for purchasing your motorcycle helmet:
Types of Helmets. Be sure to buy a helmet which is specifically designed for motorcycling. You may use different helmets for other activities, but these do not provide adequate protection in case of a motorcycle accident.
There are three types of helmets: full-face helmets; three-quarter, open-face helmets and "shorty" half helmets. A full-face helmet covers your entire face and provides the most protection. It has a moveable face shield which protects your eyes from debris and face in a motorcycle accident.
A three-quarter, open-face helmet has many of the same features, minus the face and chin protection of a full-face helmet. If you use an open-face helmet, it is recommended you also use a snap-on face shield or a pair of safety goggles when you ride.
The last type of helmet, a "shorty" half-helmet is not recommended by most safety organizations. It protects very little of your head and is the most likely to come off when you ride.
Safety Ratings. Since 1980, all adult-sized helmets for highway use have been required to meet the Department of Transportation (DOT) standards. Make sure your helmet has a DOT sticker before you purchase. The Snell Memorial Foundation is another safety testing laboratory for motorcycle helmets, though this rating is voluntary for helmet manufacturers.
Helmet Size. Most helmets are marked small, medium, large or extra large. Fit is important so measure your head at the largest circumference and contact your manufacturer to ask what size that measurement fits.
The goal is to avoid buying a helmet which is too large and can fall off. Here are a few things to note. The cheek pads should touch your cheeks without pressing uncomfortably. On full-face helmets, press on the chin piece. The helmet or face shield should not touch your nose or chin. There should be no gaps between your temples and brow pads. If the helmet has a neck roll, it should not push the helmet away from the back of your neck.
Replacing and Caring for Helmets. Follow the manufacturer's instructions for caring for your helmet. It is best to use mild soap, water and a soft cloth. Avoid any petroleum-based cleaning fluid, which can cause the helmet to decompose over time.
Replace your helmet if the face shield is scratched as this will obstruct your view when riding. You should also replace your helmet if you're involved in a motorcycle crash or if you notice any damage. Otherwise, many manufacturers recommend replacing your motorcycle helmet every two years.
Related:
The Boston motorcycle accident lawyers at Breakstone, White & Gluck have over 80 years combined experience handling motorcycle accident cases in Massachusetts. If you have been injured, it is important to learn your rights. For a free legal consultation, contact us today at 800-379-1244 or 617-723-7676 or use our contact form.