Posts Tagged 'Massachusetts social host liability'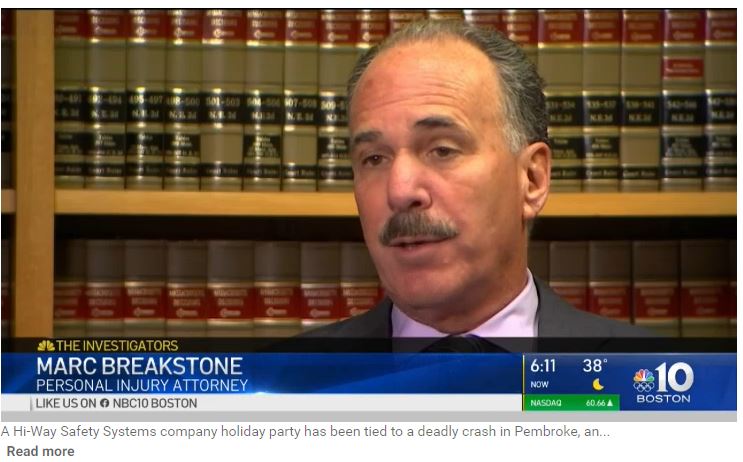 Attorney Marc L. Breakstone was interviewed by NBC Boston as part of its ongoing coverage of the Hi-Way Safety Systems holiday party and the subsequent deaths and injuries. At least three employees are now facing criminal charges, including one in an alleged high-speed drunk driving crash in Pembroke, which killed a teenage girl. A fourth employee was found dead in a Rockland motel in the subsequent hours.
The NBC Boston segment, which aired on January 8, 2020, focused on whether the party hosts may also face criminal charges under the Massachusetts social host law and civil lawsuits. The company reportedly hosted the party.
Breakstone is a Boston personal injury lawyer with over 30 years of experience representing victims of negligence. He said victims may able to file civil lawsuits in these serious cases.
"Key is the issue of control. If I control the service of alcohol in my home, and I have the ability to shut someone off and don't, I could be liable."
The Plymouth County District Attorney's office and police now want to interview each party guest to learn more about the circumstances. In the wake of the crash, the Massachusetts Department of Transportation has announced Hi-Way Safety Systems can no longer bid on state contracts. Hi-Way Safety Systems has announced the employee who caused the Pembroke crash which killed a teenage girl and seriously injured another victim has been fired. He has been charged with one count of manslaughter while operating under the influence of alcohol, two counts of operating under the influence causing serious bodily injury and other offenses. He was ordered held without bail in Plymouth District Court.
Watch the NBC Boston segment.