Posts Tagged 'Massachusetts motorcycle insurance'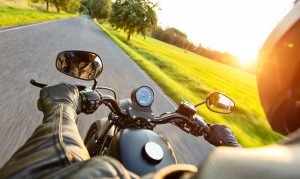 Motorcycle season is almost here. For riders, this means goodbye snow and cold; hello to the open road.
Good pre-season preparation is essential for motorcyclists. Take some time to inspect your motorcycle and helmet and review the Massachusetts driving manual. Review your auto insurance as well; most drivers and motorcyclists do not carry enough insurance.
Wear a Helmet. Under Massachusetts law, motorcyclists must wear helmets which have been approved by the U.S. Department of Transportation (DOT). Helmets save lives so make sure yours is in good condition. If you have been involved in a motorcycle accident or fall, replace your helmet.
Clothing and Gear. Select the appropriate clothing and gloves for driving conditions.
Licensing and Insurance. Class M licenses are required for Massachusetts motorcyclists. Anyone who is 16 or older may take the Class M exam, unless the Registry of Motor Vehicles (RMV) has taken away your right to operate.
Once you pass the exam, you must obtain auto insurance for your motorcycle. It pays to do your homework here. Under the law, Massachusetts motorcyclists are only required to purchase compulsory insurance. But you can and should also purchase optional coverage for more protection.
We encourage you to ask your insurance agent about insurance laws for motorcycles and about coverage for accidents involving underinsured and uninsured drivers. If you are ever injured and the driver responsible does not have adequate insurance, you may have to look to your own insurance policy to fill in the gap and pay some of your medical bills and other compensation.
Insurance companies do not provide for Personal Injury Protection (no-fault benefits) on motorcycle policies. We strongly recommend that you purchase Medical Payments coverage. That coverage will provide insurance for you and your passenger in the event of an accident.
Follow the Rules of the Road. Massachusetts motorcyclists must follow the same rules as other drivers, but there are some differences. If you have questions, you can quickly check the Massachusetts Motorcycle Manual online.
Defensive Driving. One topic covered in the manual is defensive driving. Commit to keeping a safe distance between you and other vehicles on the roads to avoid a motorcycle accident.
Motorcycle Accident Statistics

Nearly 5,000 people died in motorcycle accidents in 2015, up 8 percent from 2014, according to the National Highway Traffic Safety Administration (NHTSA). In 2015, 88,000 motorcyclists were injured.

Motorcycle deaths occurred 27 times more frequently than other fatalities on the road, according to NHTSA figures.
About Breakstone, White & Gluck
The lawyers at Breakstone, White & Gluck of Boston have over 100 years combined experience representing motorcyclists who have been seriously injured by the negligence of drivers. Our attorneys have recently negotiated settlements of $3.75 million, $3.5 million and $1.25 million for injured motorcyclists. Read more about our motorcycle accident case results.