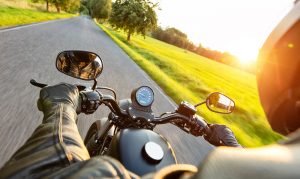 Motorcycle season is almost here. For riders, this means goodbye snow and cold; hello to the open road.
Good pre-season preparation is essential for motorcyclists. Take some time to inspect your motorcycle and helmet and review the Massachusetts driving manual. Review your auto insurance as well; most drivers and motorcyclists do not carry enough insurance.
Wear a Helmet. Under Massachusetts law, motorcyclists must wear helmets which have been approved by the U.S. Department of Transportation (DOT). Helmets save lives so make sure yours is in good condition. If you have been involved in a motorcycle accident or fall, replace your helmet.