Posts Tagged '"Massachusetts injury lawyers"'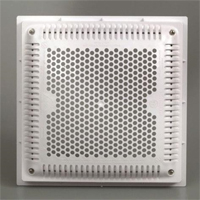 One million defective pool and spa drain covers are being recalled because they are incorrectly rated to handle the flow of water and pose a possible entrapment hazard.
No injuries have been reported. The safety drain covers are being voluntarily recalled by eight manufacturers and are not sold directly to consumers.
There are 6.2 million residential and public inground pools and inground spas in the United States and the pool drain cover recall affects fewer than 5 percent, according to the Consumer Product Safety Commission (CPSC). But the recall comes just a few weeks before schools in Massachusetts finish for the summer and it is unclear how many closures it may force among the state's public swimming pools.
The federal Virginia Graeme Baker Pool and Spa Safety Act took effect December 19, 2008, tightening safety standards for drain covers sold to consumers and public pool operators. The recalled drain covers were installed after that, between December 19, 2008 and April 2011.
The new legislation has been credited with reducing fatal drownings and pool accidents caused by unsafe suctions. From 1999 to 2008, 12 people were killed in pool and spa entrapments and 72 suffered injuries, according to the CPSC. In 2009 and 2010, there were no deaths and 10 pool entrapment injuries reported.
The affected drain covers were sold through independent distributors to pool and spa builders and installers. The CPSC is advising consumers to contact their pool builder or pool service provider. Consumers can also visit the Drain Cover Recall web page maintained by The Association of Pool & Spa Professionals or call the association at 866-478-3521.
The manufacturers and pool service professionals will replace or retrofit the defective pool drain covers at no charge to consumers.
Consumers are advised not to use pools with the defective drain covers and not to attempt to replace the drain covers themselves.
The manufacturers involved in the pool drain cover recall are A&A Manufacturing of Phoenix, Arizona; AquaStar Pool Products Inc of San Diego; California, Color Match Pool Fittings of Surprise, Arizona; Custom Molded Products of Tyrone, Georgia; Hayward Pool Products of Elizabeth, New Jersey; Pentair Water Pool and Spa of Sanford, North Carolina; Rising Dragon USA, of E. Sweetwater, Tennessee and Waterway Plastics of Oxnard, California.
For more information on the recall, click here.
Read More
For young children, summer is about warm weather, splashing around the pool and family daytrips. These activities often involve a motor vehicle and that, combined with a change in routine during which people may drop their guard, may present dangers. The key is for parents to educate themselves about potential motor vehicle accidents, then actively pay attention.
Hyperthermia and Heat Stroke
With many things on their minds, parents can quickly forget a child who is usually in school is in the backseat. Parents need to be extra careful in the summer not to leave children in the car unattended and should also avoid it in the cooler months.
If the outside temperature is 80 degrees, the temperature inside a vehicle can reach the 100 degree mark within minutes. The National Highway Transportation Safety Administration advises that even temperatures in the 60s can rise beyond 100 inside your closed-up car. Children's bodies overheat much faster than adults and leaving the window open a small amount may not be enough.
Avoid leaving your child in the car unattended by placing your purse or briefcase in the backseat with your child. Also try writing yourself a note and placing it where you will see it when exiting the vehicle. At home, keep your keys out of your child's reach.

Power Windows
Most new cars are built with power windows, a feature great for convenience but potentially dangerous for children.
Implementing strong rules protects your children. Never allow your children to be alone in your vehicle. Teach children not to play with automobile window switches. For your part, never leave the keys in the ignition when you are not there. Before purchasing, investigate vehicles with safeguards, such as power windows that automatically go down when a child's arm gets in the way.
Motor Vehicle Backovers
Adults pulling vehicles out of driveways always need to watch for young children. But the need is greatest in the warm weather when children spend more time outdoors.
Parents and drivers must both work to keep children safe. If you are a parent, keep a close eye on your children. Teach them not to play around cars and to move away when a driver enters a vehicle to avoid a motor vehicle accident. Teach children not to leave their toys in the driveway. Drivers can back out of their driveways slowly and ask children to stand on the sidewalk.

Trunk Accidents
Children love to play and that sometimes leads them to the danger of a vehicle trunk. Because this can be deadly, parents must watch youngsters closely and teach children trunks are for cargo, not for playing.
Always lock car doors and trunks and keep keys out of sight. Keep the rear fold-down seats closed or locked to prevent your children from climbing.
Lastly, explain the dangers of playing in the trunk and show young children how to use the "glow in the dark" trunk release in case of emergency. Auto manufacturers have been required to install these releases in new vehicles since September 2001. If you have an older car, ask your local car dealer about retrofitting your vehicle with the release.
For more tips on children and motor vehicle safety, visit the National Highway Traffic Safety Administration website.
Read More