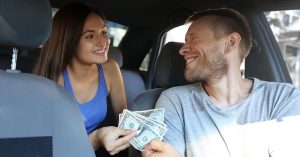 In Massachusetts, you can pay a licensed cab, Uber or Lyft for a ride and expect the driver to carry auto insurance if you are injured. These drivers are required to buy minimum levels of auto insurance under Massachusetts law, which is the way it should be.
But now, two years after Massachusetts began regulating rideshare companies, auto insurance companies are becoming more careful in investigating car crashes to make sure they do not involve "gypsy cabs" or situations where passengers pay a private individual for a ride, even though they are not licensed as a business, taxi or have not met rideshare regulations. Insurance companies are saying passengers are not covered for injuries in these situations, and it's an important warning to consumers.
There is a whole industry of gypsy cab drivers on the roads in wake of the rideshare legislation. They are simply ignoring the regulations and setting up social media pages advertising their services. They may also grow their business by word of mouth and by serving the same passengers they know well. Their prices may undercut other ride services, but there is a huge catch in the bargain: there may be no insurance in case of a car accident.