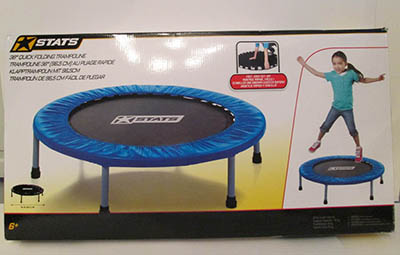 Each year, the 10 Worst Toys list is released to help holiday shoppers steer clear of unsafe toys. This year, the authors warn shoppers about everything from trampolines, popular movie toys and playsets which have small
choking hazards
.
The annual list is compiled by W.A.T.C.H. This year's list includes:
Skipit's Wheely Cute Pull Along
Every child loves a cute puppy, but this toy has hub caps which come off the wheels and pose choking hazards for young children. This product is marketed to children six months and older and is made by Bunnies By The Bay. Certain lots of this product were actually recalled on June 16, 2015. However, W.A.T.C.H. reported a similar toy was purchased online after the recall, so this risk may still be on the market.
Foam Dart Gun
This gun is manufactured by G.D. Jiefeng Toys and is marketed to children ages 3 and up. It is sold on Amazon.com and Ebay. W.A.T.C.H. says, "In today's world, there is no excuse for outfitting children with realistic toy weapons designed to produce potentially dangerous and unnecessary thrills. Existing regulations addressing the hazards associated with such 'toys' are inadequate."
Stats 38″ Quick Folding Trampoline
Toys R Us manufactures and sells this trampoline, which is marketed to age 6 and older. Trampolines are associated with spinal cord injuries and this one even has a warning stating, "Landing on the head or neck can cause serious injury, paralysis, or death, even when landing in the middle of the bed."
Splat X Smack Shot
This $10 toy looks fun, but it actually poses the potential for serious eye injuries to the child using the toy and others around him. The toy, which is made by Imperial Toy LLC, comes with ammunition with can fire up to 100 feet away. It is sold at Walmart, Amazon.com and Kmart.
Poo-Dough
This $4.99 toy was included in W.A.T.C.H.'s list because it only has an allergy notice on part of the packaging.
Kick Flipper
This is basically a plastic board marketed as a "skateboard without wheels." The packaging shows pictures of children using the Kick Flipper as they would a skateboard, but they are not wearing helmets or safety gear.
Leonardo's Electronic Stealth Sword
This toy can cause facial and other impact injuries. It is manufactured by Playmates international Company Ltd and marketed to children ages 4 and up. It is sold by Toys R Us, Amazon and Ebay.
Kid Connection Doctor Play Set
This $5 play set is sold at Wal-Mart, Amazon.com and Ebay. It is recommended for children ages 2 and up, but includes a small "tongue depressor," which is 4 ¾ inches in length and could cause a choking hazard.
Pull Along Zebra
This toy poses a strangulation risk. It has a 21-inch cord and is marketed for children 12 to 36 months old. The toy is made by Early Learning Centre and sold at Amazon.com, Kmart, Brookstone and Village Toy Shop. It carries this warning: "Remember babies and young children have no idea what is dangerous or potential harmful, so supervision is important…"
Jurassic Word Velociraptor Claws
This $19.99 toy is marketed to 4-year-olds who want to "claw like a raptor!" The packaging warns there is a choking hazard and small parts will be generated. There are no warnings about potential facial or eye injuries. The claws were manufactured by Hasbro and are sold by Target, Amazon.com, Toys R Us, Walmart and Kohl's.