Posts Tagged 'fatal cycling crash'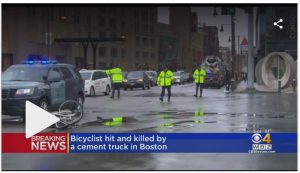 Massachusetts State Police are investigating a tragic crash which killed a female cyclist today in a heavily congested Boston intersection. The bicycle crash happened in the city's Fenway neighborhood, less than a half mile from Fenway Park. Witnesses described a frightening scene as emergency responders attempted to resuscitate the woman, according to WBZ-TV. The woman was transported to Brigham & Women's Hospital, where she sadly died from her injuries. The woman's bike was left crushed in the road as State Police blocked off two traffic lanes to investigate.
The cement truck reportedly struck the woman on Brookline Avenue at Park Drive around 1:30 p.m., according to Boston.com. Just before 4 p.m., State Police reported the woman had died. The cement truck read, "Boston Sand & Gravel Co." The driver reportedly stayed on the scene and was also transported to a hospital for evaluation. At this time, State Police have not released the name of the woman, the driver or confirmed the cement truck's owner.
News photos showed the truck crash that killed the cyclist was near a major traffic block, near Emmanuel College, Boston University's Fenway Campus and the Emerald Necklace walkway. Nearby is Longwood Medical area, including Brigham & Women's Hospital, Beth Israel Deaconess Medical Center and Children's Hospital.
Police focused their investigation on the center of the large intersection, measuring marks in the road, according to WBZ-TV. The bicycle was crushed and the seat was detached. The cement truck remained on site for several hours before being towed away.
About Breakstone, White & Gluck
Breakstone, White & Gluck is one of the most respected personal injury law firms in Boston. With more than 100 years combined experience, our attorneys represent cyclists and their families in personal injury and wrongful death lawsuits. With a special expertise in investigating truck crashes and an expansive knowledge of the trucking industry, our attorneys have a record of successfully negotiating the best financial results for our clients. Time and again, we have effectively presented the evidence and negotiated the maximum coverage on insurance policies. If you have been injured, learn your rights. For a free legal consultation, visit 800-379-1244 or 617-723-7676 or use our contact form.
Breakstone, White & Gluck's Experience
We invite you to read about one of our recent cases below or in Boston Magazine. Attorney Ron Gluck was recently interviewed about his work for the family of a cyclist who was struck and killed by a truck in Back Bay.
$3,500,000: 
Truck Collision Kills Motorcyclist; Wrongful Death
$3,000,000: Tractor-Trailer Strikes Car, Severe Orthopedic Injuries
$2,500,000: Car Struck by Truck, Plaintiff Suffers Multiple Injuries