Breakstone, White & Gluck was pleased to donate 120 children's bicycle helmets to the Dedham Police Department and the Dedham Bike Rodeo this year. This was our fourth year participating  in the rodeo and Attorney Reza Breakstone was on hand to fit children for new helmets and answer questions about bicycle safety.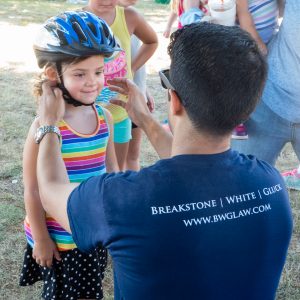 The Dedham Police Department and the Dedham Parks & Recreation Department organize the annual rodeo, which is always held at the Endicott Estate. We always expect warm weather, but this year was especially hot and we were worried children may not come out. There was no cause for concern. We still had many parents and grandparents bring children, and children from local childcare programs stop in. Attorney Breakstone still fit about 75 children ages 4 to 10 for new bicycle helmets. Dedham police officers will give the rest to children who need one.
Breakstone, White & Gluck donated the bicycle helmets through our Project KidSafe campaign, which has now donated over 10,000 helmets to children in eastern Massachusetts. We started our safety campaign in 2013. The Dedham Bike Rodeo was one of our first events and it is always rewarding to return each year.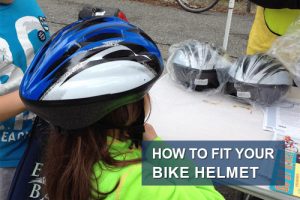 How to Fit Your Child's Bicycle Helmet
If you or your child need help fitting a helmet, we want to share this video. Putting a bicycle helmet on your child is a critical step in protecting them from a serious head injury. By wearing a helmet, cyclists reduce their chance for head injury by 50 percent, according to the Insurance Institute for Highway Safety. Other studies have shown it provides even more protection so it is important for all cyclists to wear one, every time they ride. Continue reading