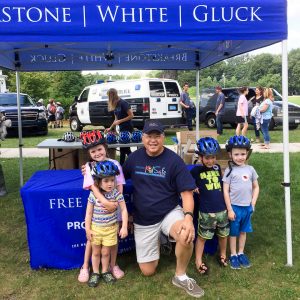 We want to share a few photos from our Project KidSafe campaign.
Dedham Bike Rodeo. Breakstone, White & Gluck was pleased to donate 120 Project KidSafe bike helmets to the Dedham Bike Rodeo on July 26. Attorney David W. White participated in the event, fitting helmets for children who needed one. We always enjoy this event because we get a chance to talk to children and parents about bike helmets and bike safety. It was one of the first events we donated helmets to in 2013, the year we began our Project KidSafe campaign. The rodeo is organized by the Dedham Police Department and the Dedham Parks and Recreation Department.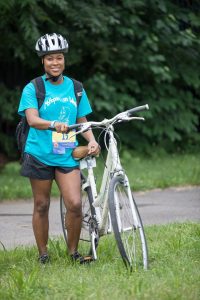 Mattapan on Wheels. Breakstone, White & Gluck also donated helmets to cyclists at the 7th Annual Mattapan on Wheels event on July 22. We are told 130 cyclists took to the Neponset Trail to raise funds for a youth bike summit and many had no helmet or needed a new one. Participants could choose their destination and ride along the trail to Pope John Paul II Park, Carson Beach or Castle Island. This was the first time we donated helmets to this event and we are told every helmet was put to use.