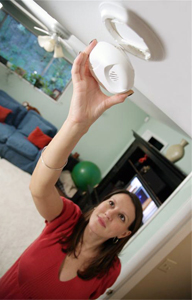 Many of us are thinking about Halloween today. But Daylight Saving Time also ends this weekend. While setting your clocks back, remember to replace your smoke alarm batteries and test to make sure they work properly.
As we approach winter, we increase use of electrical appliances and the risk for home heating fires rise. In fact, half of all home heating fires happen in December, January and February. The death rate in homes with no working smoke alarms is twice as high as those with alarms, according to the National Fire Protection Association. Often, homes have smoke alarms but the batteries are missing disconnected or dead.
Make as many of these safety checks as you can this weekend:
Smoke alarms. Replace your smoke alarm batteries in every unit of your home and smoke alarms which are 10 years old. Also check if your smoke alarm model has been recalled. Kidde recalled 1.2 million smoke and carbon monoxide alarms in September. You can search for other recalls at www.cpsc.gov.
Carbon monoxide detectors. The state of Massachusetts began requiring carbon monoxide detectors in every residence in 2006 and many home owners have passed the 5-7 year lifespan of their models. Check if yours needs to be replaced. If you have a combination smoke alarm/carbon monoxide detector, check the unit's specific instructions.
Washing machines and dryers. Clothes dryers are responsible for many home fires, but most can be prevented by regularly checking and cleaning the filters. Clean your models out now.
Cooking. Unattended cooking is the leading cause of cooking fires. Clear out any clutter in your kitchen now so you have plenty of room to set out your ingredients in advance. Find a cabinet or drawer to store anything you may need so you do not have to leave the room while cooking. Make sure you have a functioning fire extinguisher.
Home heating. Arrange for oil delivery or have your chimney or wood stove professionally cleaned. If you are using a space heater, take a few minutes to read our home heating safety tips. Each year, space heaters cause 80 percent of home heating fire deaths and one third of all home heating fires.
Get ready for the snow. Get your snow hat, gloves, shovel and road salt ready now and set them aside in the same place throughout the winter. When it snows, you want to be able to easily find them so you can clear your front steps and driveway so no one slips and falls in the snow and ice.
Cords. Walk through every room of your home and see what is plugged into the electrical outlets. Look under beds, behind computers, in power supplies and in your children's rooms. Unplug cords you are not using and put them in a drawer until you need them. Pay extra attention to the USB cords for your tablets and cell phones and replace them if they look old or worn.
Get your car ready. Take a few precautions and reduce the stress of traveling in the snow. Collect and pack away ice scrapers and small shovels as well as an extra hat, pair of gloves and clothing in case you become stuck while traveling. Also pack a couple flashlights, a non-perishable snack, such as a granola bar, and make sure all your vehicle paperwork is easily accessible in the glove compartment.
Continue reading