A crane collapse in August 2008, which occurred in Quincy, Massachusetts, caused one wrongful death and three other people injured. After an extensive investigation, the Occupational Safety and Health Administration (OSHA), issued citations to three of the companies involved in the crane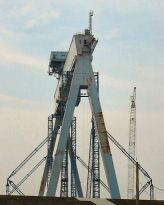 dismantling process. With today's pressure to underbid competition, many people are wondering if those cost savings mean a compromise of safety on the job site.
At the Fore River Shipyard in Quincy, MA, a giant crane needed dismantling. As is customary, specialty contactors were brought in for the task. Norsar LLC was hired to oversee the process and they subcontracted Sarens to operate the jacking system necessary for the dismantling process. OSHA issued citations for serious violations to both of these companies.
The problem, OSHA representatives say, is that the companies deviated from their original plan and then did not adequately work out the new plan, placing many employees in danger. Originally, the companies planned to dismantle the crane's 160-foot leg units in two 80-foot parts. Instead, they opted to work with the full 160-foot units, exposing employees to crushing-by and struck-by hazards. Additionally, they failed to minimize employee presence in the danger zone.
This year has been a tragic one for the crane industry. The most recent accident to gain national attention was
the collapse of an enormous mobile crane at an oil refinery in Houston, Texas. Four workers were killed when the crane, with a 400 foot boom, toppled, taking another crane down as it fell. This news follows two dramatic crane accidents in New York City, both of which involved fatalities, and which exposed corruption in the inspection unit responsible for crane safety. Other recent crane accidents have taken lives in Las Vegas, Miami, and Oklahoma City.
Amazingly, only fifteen states (Massachusetts is among them) require crane operators to be certified or
licensed. But even licensing of crane operators is insufficient when general contractors fail to recognize and warn of inadequate site conditions, or when other workers ignore basic safety rules.
With eighty people dying each year in crane accidents, it is long past time for the federal government to act.
Sadly, the NY Times reports today, rules to strengthen OSHA regulations to reduce the likelihood of a crane accident sit mired in red tape. The building industry and labor both want better rules, but the administration won't act.
The new safety rules should be enacted promptly to protect workers and the public from avoidable tragedies
caused by crane accidents.
The attorneys at Breakstone, White& Gluck, P.C. have handled a number of crane accident and other construction site accident cases, and have an excellent understanding of crane operations as well the rules and regulations governing construction sites. If you or someone you know has been injured in a construction accident, we would be pleased to provide a free consultation regarding your case. You can read more hiring a
lawyer for construction accidents on our construction and crane accident page.
Resources:
Massachusetts Crane Accident Case Report
Long Overdue Crane Safety, NY Times, August 2, 2008
Crane Accident at Houston Refinery, NY Times, July 19, 2008