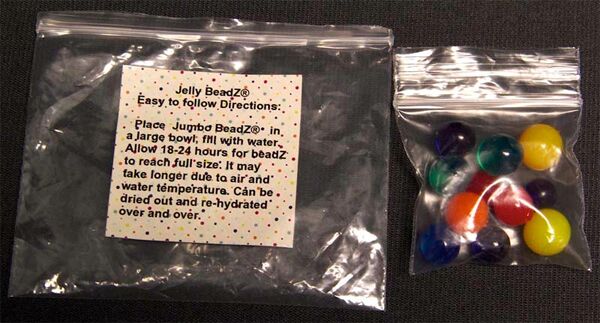 The Consumer Product Safety Commission (CPSC) announced several product recalls last week, including one for a dangerous child's toy which can cause choking and which has been involved in a death. Also recalled were a high-end bicycle with defective brakes and a flat screen television which can overheat and catch on fire.
Doodlebutt Recalls Jelly BeadZ Jumbo BeadZ and Magic Growing Fruity Fun Toys Due to Serious Ingestion Hazard
About 1,500 of these small water-absorbing toys have been recalled by the importer, Doodlebutt of Lehigh Acres, Florida. The Jumbo BeadZ toys are marble-sized water absorbing balls and the Magic Growing Fruity Fun toys are water-absorbing polymer shapes, such as apples, bananas, butterflies and cherries.
The CPSC is aware of one incident in which an 8-month-old girl ingested the ball and it had to be surgically removed and two cases outside the United States, including one resulting in death.
The CPSC warns children can mistake the toys for candy and when swallowed, they can expand inside a child's body. The toys can absorb 300 to 500 times their weight and grow up to eight times their original size. Children can suffer vomiting, dehydration and life-threatening injuries. Another problem is similar toys have not shown up on x-rays.
The toys were sold through Amazon.com from February 2012 to September 2013 for about $9. Consumers are advised to take the products away from children immediately and stop using the product. They can contact Doodblebutt for a full refund. Read the CPSC recall notice.

Eight Retailers Recall 32″ Coby Flat Screen Televisions Due to Fire and Burn Hazards
Eight retailers have recalled the 32″ Coby Flat Screen Television due to fire and burn hazards. These retailers have initiated the recall because Coby USA, the product importer and distributor, has gone out of business.
The CPSC has received reports of six incidents involving televisions overheating, smoking or catching on fire. No injuries were reported, but there was some property damage. In two cases, televisions caught on fire and one also scorched a wall.
Consumers are told to turn off and unplug the televisions and contact their retailer. Retailers may offer different remedies, which may include a refund, store credit, gift card or replacement TV. About 8,900 of the televisions were sold through:
Sears/Kmart
Toys R Us
ABC Warehouse
Fry's Electronics
h.h. Gregg
Nebraska Furniture Mart
P.C. Richard & Son.
Online retailers
BestBuy.com dealtree.com
techliquidators.com
bestbuy.dtdeals.com
The televisions were sold nationwide from August 2011 through November 2013 for between $170 and $260.
Read the CPSC recall notice for the model numbers involved in this recall.
Trek Recalls Madone Bicycles Due to Crash Hazard; Front Brake Can Fail
Trek has recalled several models of its year 2013 Madone bicycles after five reports of loose front brake attachment bolts. No injuries have been reported, but consumers are advised to stop using the bicycle and take it to a Trek dealer for a free replacement front brake system. The bicycles were sold nationwide from July 2012 through this month for between $3,400 and $6,300 and for custom models, up to $15,000. About 6,300 bicycles are involved in this recall. Read the CPSC recall notice.
Other Recalls:
Shaws Industries Recalls Carpet Due to Fire Hazard; Sold Exclusively at Lowe's Stores
Hobby Lobby Stores Recalls Accent Chairs Due to Risk Injury
Read More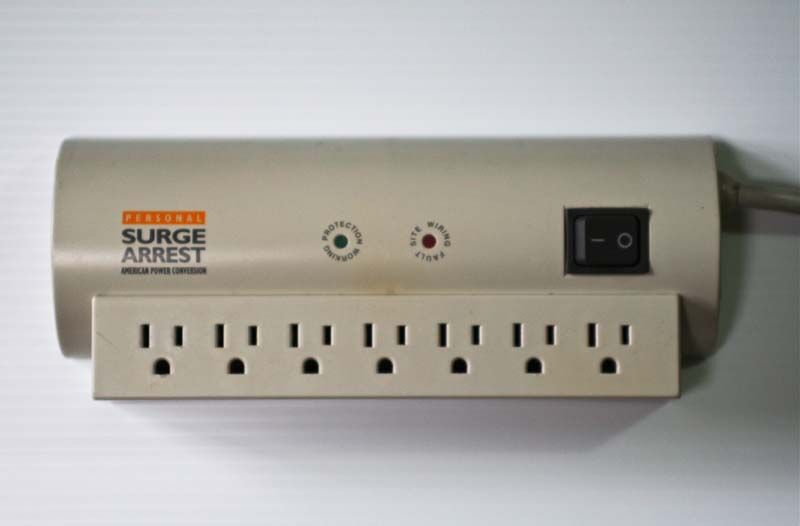 Now, as we head into winter, is a good time to test your home's smoke alarms, check your appliances and inspect your electrical outlets and cords.
First, a good resource is the Consumer Product Safety Commission (CPSC) website, where you can search for recall news about products you may own. Recently, there have been several recalls involving products posing serious fire hazards.
One example is Schneider Electric IT Corp. recalled 15 million APC Surge Arrest surge protectors in early October. This followed 700 reports of property damage, including $916,000 in fire damage to a home and $750,000 to a medical facility. Another 13 reports were injuries, including smoke inhalation and contact burns. Another example is Gree Electric Dehumidifiers, which recalled 2.2 million dehumidifiers in the U.S. last month, after its products caused 46 fires and $2.15 million in property damage.
You can review the CPSC website to make sure you have no recalled products in your home. You can also take a look around your home for faulty cords or products.
Preventing Home Fires in the Winter
During a typical year, there are over 26,000 home electrical fires in this country, according to the U.S. Fire Administration. December and January see the most electrical fires. We share a few tips for preventing these fires:
1) Check your smoke alarms before the season.
2) Regularly check your electrical appliances and wiring. Replace any old or damaged cords; do not try to repair them.
3) Replace any appliance you feel may not work properly. If you do not want to replace it, call a repair service or visit the store where you purchased the product. Check electric space heaters every year as a rule.
4) Buy appliances which have the label of a recognized testing laboratory, such as UL.
5) Avoid using extension cords.
6) Use only surge protectors or power strips that have internal overload protection and have been tested by a national laboratory.
7) Keep clothes and flammables at least three feet away from all portable electric space heaters.
8) Use light bulbs that match recommended wattages for lamps.
9) Bring in an electrician if you are experiencing flickering lights or other problems.
Related:
Electrical Home Fire Safety, U.S. Fire Administration
Schneider Electric Recalls APC Surge Protectors Due to Fire Hazard, Consumer Product Safety Commission.
Read More