Posts Tagged '"car accident attorney"'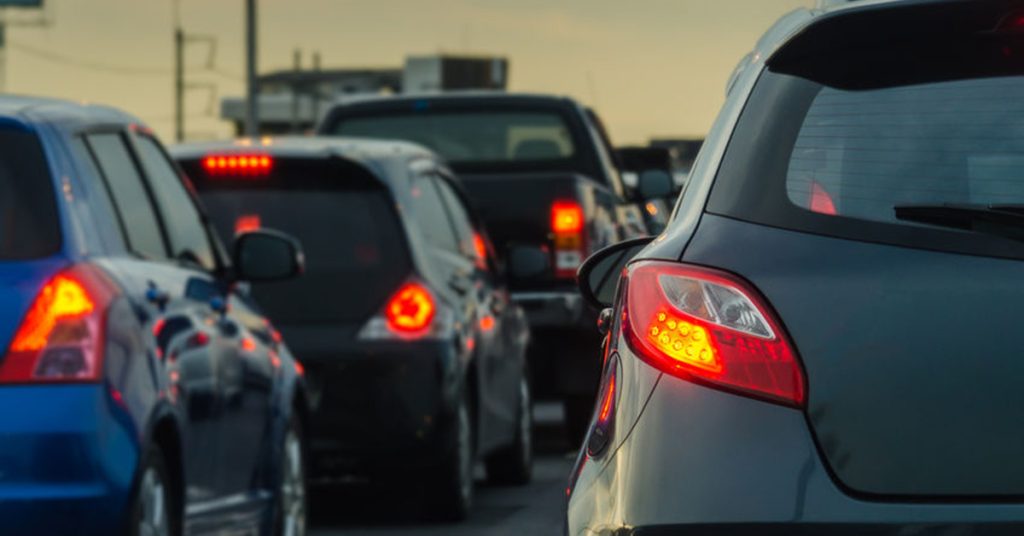 Have you reported your car accident to police?
While we hope you are never involved in a crash, drivers can take a few minutes to familiarize themselves with the Massachusetts motor vehicle crash operator report. Reviewing it can be helpful should you ever be in a crash – or witness one.
You can find the Massachusetts motor vehicle crash operator report online. It is available on the state of Massachusetts website.
Massachusetts Motor Vehicle Crash Operator Report – Driver Obligations
M.G.L. Chapter 90, Section 26 states the driver of a motor vehicle involved in a crash must report the collision if anyone was killed, injured or if property damage resulted in an excess of $1,000 in damage. This damage may be to a vehicle involved in the crash or to another type of property, such as a fence or building.
All drivers involved in crashes must file a report with the Massachusetts police department which has jurisdiction, their auto insurance company and the state Registry of Motor Vehicles.
Drivers have five days to file a report. The exception is when a driver suffered serious injury and is unable to file a police report right away.
Police departments must accept motor vehicle crash reports from any driver who unlawfully left the scene of a hit and run accident, even when the property damage falls under $1,000.
When a driver operates someone else's vehicle under the influence of alcohol and there is a crash, the vehicle's owner is responsible for reporting. They have five days to report the crash, based on when they learned about the crash.
Filing a motor vehicle crash report is your responsibility as a driver, whether you were injured or at fault in the crash. Failure to fill out a motor vehicle crash report has consequences. Drivers can have their licenses suspended by the RMV. They may also face criminal penalties.
Motor vehicle crash operator reports are the first step if you need to have your car repaired, replaced or if you have been injured. Police will consider the crash report you submit as part of their investigation in determining who was at fault and whether to cite that person. A traffic citation or criminal charges can support your claim seeking financial compensation for medical expenses, lost wages and other damages.
Filling Out The Report – What Drivers, Passengers and Others Should Know
If you are seriously injured, you cannot gather evidence and information at the accident scene. The investigation will largely fall to the police department which responds.
But if you can collect information, your cell phone is the best tool you have after a car crash. Take photos of everything, from your own vehicle to the roadway and the other vehicle.
This is where it becomes valuable to review the Massachusetts motor vehicle crash report before an accident. By doing so, you will have a better understanding what information to capture on the scene. As you can see, the report requests the other driver's license and insurance information. It also asks drivers to report:
Crash Location
Vehicle You Were Driving
You and Your Passengers
Other Vehicles Involved in the Crash
Non-Motorist(s) Involved
Crash Conditions
Crash Diagram
Witness Information
Property Damage Information
Description of What Happened
Read the motor vehicle crash report for more information on each of these points. The report contains a section dealing with pedestrian accidents and bicycle accidents.
What's Next
When you have been injured, receive medical attention first. Then you can file a police report, consult a Boston car accident lawyer or contact your auto insurance company if you were operating a motor vehicle when the accident occurred. You should decide which order based on the severity of your injuries. We recommend consulting a lawyer first if you have been injured. Our lawyers can explain your legal rights, answer your questions and assist in handling all the important steps, including contact with the auto insurance companies and the police department.
We have represented clients in communities across Massachusetts, from Boston to the North Shore, South Shore, Cape Cod, the New Bedford area and Worcester.
Avoid all contact, whether by phone or email, with the other driver's auto insurance company. It is also recommended that you and your family stay off social media. Do not confide in friends or co-workers about a car accident until you have spoken to a lawyer and made some progress in your physical recovery.
For additional tips, please visit Breakstone, White & Gluck's website page, "What to Do When You Have a Car Accident."
About Breakstone, White & Gluck – Massachusetts Car Accident Attorneys
With more than 100 years combined experience, Breakstone, White & Gluck represents individuals and families who have been injured by negligent drivers in Massachusetts. Clients turn to us for our experience and results in cases involving car accidents, truck crashes, bus accidents and pedestrian accidents.
If you have been injured by a negligent driver, learn your legal rights. Call 800-379-1244 or 617-723-7676 or use our contact form.
As students head back to classes, this is a good time for families to talk about cell phones and distracted driving.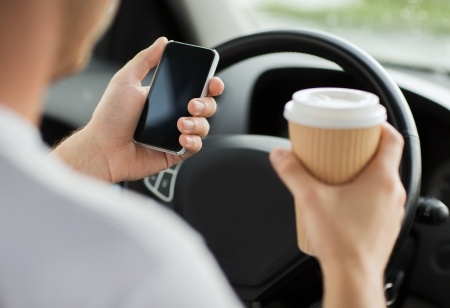 Each day, nine people are killed in the U.S. in crashes involving distracted driving behaviors, such as using a cell phone, texting while driving or eating. More than 1,100 are injured.
There are now 46 states which ban texting while driving, including Massachusetts, which banned the practice in 2010. Junior operators are not allowed to use cell phones at all in Massachusetts.
For Parents
No Cell Phone Rule. Lead by example. Put your cell phone away while driving your children to school. Tell them to put theirs away too because it creates a distraction for you on the roads. Make this a rule for school drop-offs and pick-ups. If you can, extend it to other travel times.
Drop-Off Zone. After you drop your child off at school, resist the urge to immediately check your cell phone in the drop-off zone. Drive away and check later.
Children and Teens
No Cell Phone Use While Commuting. Keep telling your children the cell phone is not for use while commuting to school. Even if they are young and many years away from driving, they can learn now how distracting any cell phone use can be in the car.
Children should not use cell phones while walking or riding bikes to school, either. They can check in with social media, e-mail and text messages at home. If they must, tell them to step several feet off the sidewalk. Make it clear it is not safe to stop in a parking lot.
School Bus. Encourage your child to keep their cell phone packed on the ride so they can be aware of what is going on around them.
Reward Your Child For Not Using a Cell Phone. When your children do as you ask and leave the cell phone packed up, let them know you noticed.
Teen Drivers
Talk to Your Teen Drivers. Take some time to remind them not to use their cell phone behind the wheel. They could seriously injure someone or be stopped by police and face fines and a temporary loss of license.
No Passengers. Do not allow them to carry other teenage passengers with them until they become experienced drivers, and even then they should limit the number of passengers in their cars. Your teenager needs all their energy to focus on the roads and avoid car accidents.
Your teenager may not be happy with your rules, but younger drivers under 25 are two to three times more likely to text or e-mail while driving than others, according to the National Highway Traffic Safety Administration. You want to protect your teenager and help them develop safe habits.
Share Safety Materials. Do not be your teen's only source of information. Occasionally share safety campaign information or news articles about texting while driving with them. One resource is the AT&T It Can Wait campaign.
Read More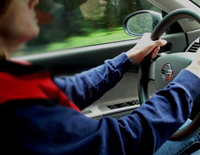 Talking, e-mailing and texting in the car are not any safer with voice recognition software, a new study finds.
Infotainment systems – those digital screens in a vehicle's dashboard – are becoming more standard in cars. They have voice recognition software which allows drivers to talk on the phone hands-free or send e-mails and text messages by voice. You can ask your GPS for directions, go online and even log into social media sites, such as Facebook and Twitter, all while driving, though these practices are unsafe.
While the federal government seeks industry support to limit use of these features while cars are in operation, the speech-to-text technology is legal in all 50 states. It provides an alternative in the 11 states and District of Columbia which ban cell phone use for all drivers. Massachusetts is one of the 41 states and District of Columbia which ban texting while driving for all operators, though drivers over 18 can talk on cell phones.
Distracted Driving Study
The new study by the AAA Foundation for Traffic Safety shows that putting the phone down and talking is still a risk. The study reported that speech-to-text technology causes a higher level of cognitive distraction than other activities behind the wheel, such as listening to a book on tape, the radio or talking on a hand-held phone or hands-free phone. Researchers compared drivers undertaking the different activities with eye-scanning technology that measured where driver attention was focused and electrical activity in the brain.
The study was led by David Strayer, a neuroscientist at the University of Utah who researches driving behavior and car accidents. He was the same researcher who led the 2006 University of Utah study.
Distracted Driving Concerns
In 2013, 9 million systems will be shipped in cars worldwide, according to ABI Research, an industry research firm. The number is expected to rise as automakers push the technology.
This technology meets heavy government concern about distracted driving. In 2010, 3,092 people were killed in car crashes related to distracted driving, according to the National Highway Traffic Safety Administration.
Recently, National Transportation Safety Board Chairman Deborah Hersman called for a ban on all phone conversations behind the wheel, even with hands-free devices. Last December, the federal government released voluntary guidelines for the auto industry, recommending that many infotainment system features be disabled while cars are in use. The recommendations seek to prevent drivers from manually enter messages, read messages, browse the Internet and make video conference calls while driving.
Read More