Posts Tagged 'Cambridge protected bike lanes'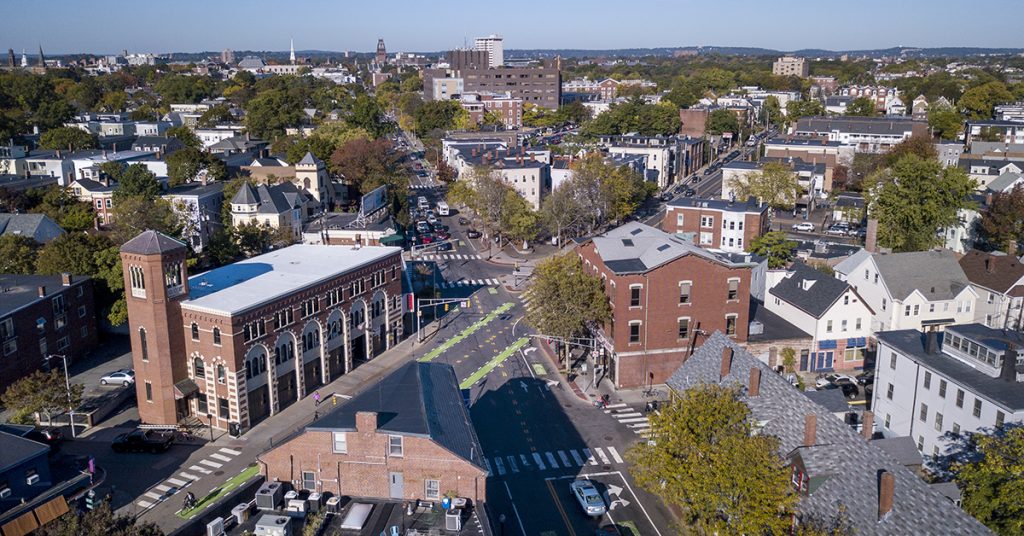 With strong encouragement from local cyclists, the Cambridge City Council voted to expand and update the Cambridge Cycling Safety Ordinance this week. The council approved the original ordinance last year, drawing national attention with an ambitious commitment to build 20 miles of protected bike lanes.
But cyclists felt there was more work to do. They recently asked the Cambridge City Council to prioritize areas for protected bike lane development, add new roads and establish a deadline for improvements.
The Cambridge City Council approved a May 1, 2026 deadline for building out Cambridge's network of protected bike lanes (now 22.6 miles), using either permanent construction or quick-build approaches (Source: Cambridge Bicycle Safety announcement dated October 6, 2020).
Protected bike lanes will also be added in more areas, including Broadway, between Harvard University and Kendall Square, and Garden Street, according to according to StreetsBlog Mass.
City councilors also voted to prioritize bike lane development in the area north of Harvard Square, directing city staff to develop a detailed plan by May 2021. Hampshire and Cambridge streets, near Inman Square, will also now move up on the work list (Source: StreetsBlog Mass).
The vote comes several weeks after a cyclist was killed in Harvard Square. In August, a large tractor-trailer struck and killed the male cyclist on Massachusetts Avenue, near Brattle Street. Just a year ago, in September 2019, another bicycle accident resulted in a female cyclist's death in the area.  A devastated family member later wrote a guest column in a local newspaper, urging the city to make safety improvements in Harvard Square.
The City of Cambridge has been studying traffic in congested Harvard Square. After the cyclist's death in August, a city official stated Cambridge will add a separated bike lane and reduce travel lanes on Massachusetts Avenue, between the Harvard Square Kiosk and Harvard Square (Source: The Boston Herald, August 26, 2020).
Harvard Square is known for historic buildings and iconic shops, such as The Coop, the Harvard University bookstore. Adjacent to Harvard Yard and Harvard University, the square is located at the intersection of Massachusetts Avenue, Brattle Street and John F. Kennedy Street. The MBTA red line stops there and pedestrians and cyclists are in close proximity to motor vehicle traffic, buses and trucks.
Other Cambridge Bicycle Accidents
The Cambridge Bicycle Safety, a volunteer group, has led the effort for expanding protected bike lanes across the city. Its announcement noted this was the first mandatory timeline for building a bike lane network in the United States.
Safety is a leading concern for cyclists in Cambridge. Between residents and commuters, Cambridge has a high number of cyclists. When cyclists have been injured or killed in traffic accidents, many people have felt the impact. There has been a strong response in each case.
In June 2016, a 27-year-old cyclist was tragically hit and killed in a bicycle crash in Inman Square. The woman was struck by a Jeep Cherokee's open door, then pushed into the travel lane, where she was ultimately struck by a moving dump truck, according to Wicked Local Cambridge. She was pronounced dead a short time later at Massachusetts General Hospital.
Then, in October 2016, a cyclist was fatally injured in Porter Square. The cyclist was struck by a tractor-trailer and a sedan during a morning ride. He was pronounced dead at the scene.
After these crashes, a Cambridge resident campaigned to encourage drivers to use the Dutch Reach method before exiting their vehicles. This method encourages drivers to take a full look at the road from their seat, so they do not risk "dooring" a cyclist.
As a result of his campaign, the state of Massachusetts added instruction on the Dutch Reach method to the state driver's manual to educate drivers.
Free Legal Consultation – Boston and Cambridge Bicycle Accident Lawyers
Breakstone, White & Gluck is a Boston law firm which specializes in the representation of cyclists who have been injured by negligent drivers. Our attorneys offer more than 100 years combined experience handling all types of bicycle accidents, including truck crashes injuring cyclists, intersection bike accidents, right hook crashes and dooring. We help cyclists obtain compensation for recovery, including for medical care, lost wages and pain and suffering.
But our attorneys do more than represent cyclists. We are committed to improving safety for cyclists in the Boston area. We have long supported local cyclist clubs. And through our Project KidSafe campaign, we have donated 30,000 bicycle helmets to children across Massachusetts, including in partnership with the Cambridge Police Department. The League of American Bicyclists has honored us as a Silver-Level Bicycle Friendly Business.
If you have been injured, learn your legal rights. For a free legal consultation, call our Boston bicycle accident lawyers at 800-379-1244 or 617-723-7676. You can also use our contact form.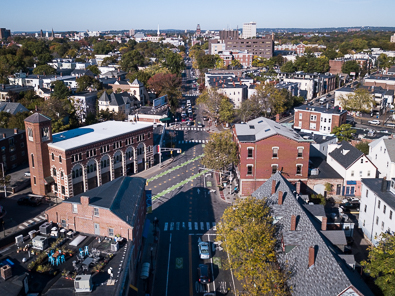 Over the past few years, there has been a growing sense of excitement about safer cycling in Cambridge. With a vote this week, the Cambridge City Council has signaled there is more to come.
The City of Cambridge has many bike lanes, but in 2017, city officials accelerated development of protected bike lanes, which place a physical barrier or extra room and road markings between cyclists and traffic. The city did this with a heavy heart, after fatal bicycle crashes claimed the lives of two cyclists in 2016. One of the cyclists was killed in Inman Square in a dooring crash; the other died in a bicycle collision with a truck in Porter Square.
Then, during 2017, the City of Cambridge rolled out new bike lanes in key travel corridors, including Brattle Street in Harvard Square and Massachusetts Avenue, near Cambridge Rindge & Latin, more than a mile altogether. The city finished the year with 25.8 miles of bike lanes, including 4.2 miles of separated bike lanes, according to a report by Wicked Local Cambridge.
Since then, cyclists and safety groups, such as Cambridge Bicycle Safety, have urged the Cambridge City Council to do more. This week, the City Council approved the Cycling Safety Ordinance, paving the way for more protected bike lanes.
The ordinance calls on the city to add protected bike lanes when roads identified by the Cambridge Bicycle Plan are reconstructed. Once complete, the bicycle plan will create an impressive 20-mile network of protected bike lanes.
The ordinance means residents no longer have to lobby for protected bike lanes when roads are rebuilt. Until now, city officials have had to grant permission on a street-by-street basis or not at all.
There may still be some debate though. The city manager can ultimately veto construction of a protected bike lane based on factors such as a street's physical layout or the costs. If this happens, the manager must document the reason in writing.
Cambridge officials say they are unaware of any other communities in Massachusetts or across the U.S. which have adopted such a far-reaching policy to create protected bike lanes.
We suspect bicycle committees and planners far and wide will be watching. Protected bike lanes improve safety for cyclists, but the impact goes further by giving everyone on the road clear markings to follow. For drivers and their passengers, these markings are visual reminders not to drive, park or open vehicle doors in bike lanes or they could cause a bicycle crash in Cambridge or any other U.S. city.
StreetsBlog reported on a 2012 study on bike lanes published by the American Journal of Public Health. The study found cyclists on streets with bike lanes had a 50 percent lower chance of injury over streets without bike lanes. Meanwhile, protected bike lanes had the potential to reduce injuries by as much as 90 percent, which is a tremendous figure. Even multi-use paths and off-street trails had a lesser impact, reducing injury by 60 percent compared to roads with bike infrastructure.
About Breakstone, White & Gluck – Boston and Cambridge Bicycle Accident Lawyers
Breakstone, White & Gluck specializes in representing cyclists and pedestrians who have been injured by the negligence of drivers and rideshare vehicles in Massachusetts. If you have been injured, the most important step you can take is to learn your legal rights for seeking compensation. For a free legal consultation, contact our Cambridge bicycle accident attorneys at Breakstone, White & Gluck at 800-379-1244 or 617-723-7676 or use our contact form.