Posts Tagged '"Cambridge Police"'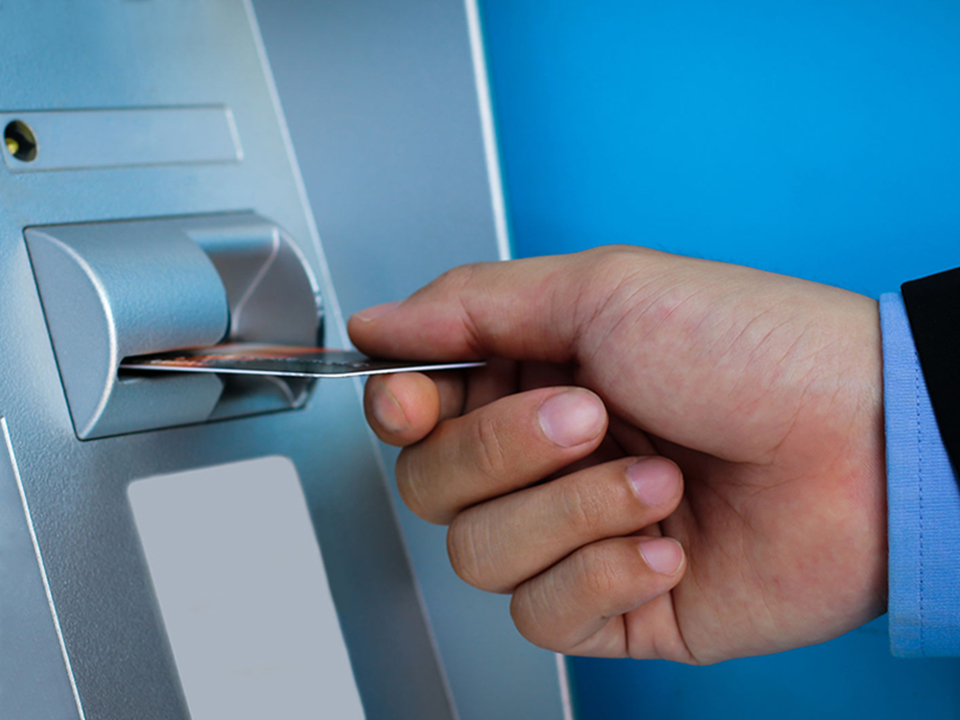 You insert your ATM card and out comes cash for the week. Simple, right? Next time, pay closer attention. Many Massachusetts consumers are being scammed – or skimmed – for their financial information, at a tremendous price.
ATMs – automated teller machines – are a convenient way to get cash or make deposits. Unlike banks, they are always open and accessible.
But they are vulnerable to ATM skimming, when thieves install hidden electronic skimming devices on an ATM to record a consumer's financial information. Massachusetts has seen several recent cases.
Just this week, Cambridge Police issued an alert, seeking a man who fraudulently ran up $800 on a Cambridge woman's ATM card. Police say he may have skimmed her financial information at an ATM in Boston. ATM skimming rarely claims just one victim, though. In June, the Lowell Sun reported on two men who pled guilty after ringing up over $100,000 on 100 credit card numbers they skimmed in the Boston area.  Other stories have also been reported in Framingham, Burlington and on the South Shore
The problem is skimming devices are often small and look like part of an ATM, so consumers may not notice them, even if they are looking.
Use caution at the ATM machine. We suggest the following tips to help you protect your financial information:
Examine the card slot before inserting your card. Look for anything loose, crooked, damaged or scratched. If you observe anything suspicious, do not swipe your card. We suggest you read this article, "How to Spot and Avoid Credit Card Skimmers," by PC Magazine.
Thieves also need your PIN code. They often record your information through hidden cameras. When entering your PIN, cover the keypad with your other hand to prevent your PIN from being recorded.
Walk away from an ATM if you notice someone watching you or you sense something is wrong with the machine.
Avoid ATM machines with minimal supervision. For instance, try not to use stand-alone ATM machines in convenience stores, bars or parking lots.
Also beware of skimming devices when paying at gas stations.
If an ATM does not return your card when a transaction is over, report the incident immediately to your financial institution.
Never give out your bank account number or the PIN for your ATM card. If someone calls you and asks for your information, hang up and report the call to your local police department.
Monitor your account for unauthorized transactions and report them to your financial institution immediately. Most banks offer online access, which allows you to check your statements easily.
Set a daily cash withdrawal limit. Ask your bank and credit card company to notify you of transactions—these can be sent right to your cell phone.
Check in on senior citizens in your family or neighbors. Tell them you are concerned about ATM skimming. Remind them to check their bank accounts, and also, to never give their financial information out to callers over the telephone.
The most important step? Contact police and your bank if you suspect anything suspicious. The sooner police and your financial institution can start investigating, the better for everyone using the ATM machine.
If you do find yourself a victim, remember you have rights. Under Massachusetts law, consumers are only liable for up to $50 if they are the victim of credit card or debit card fraud. But you must report the fraud immediately to avoid any financial losses. Read this article to learn more.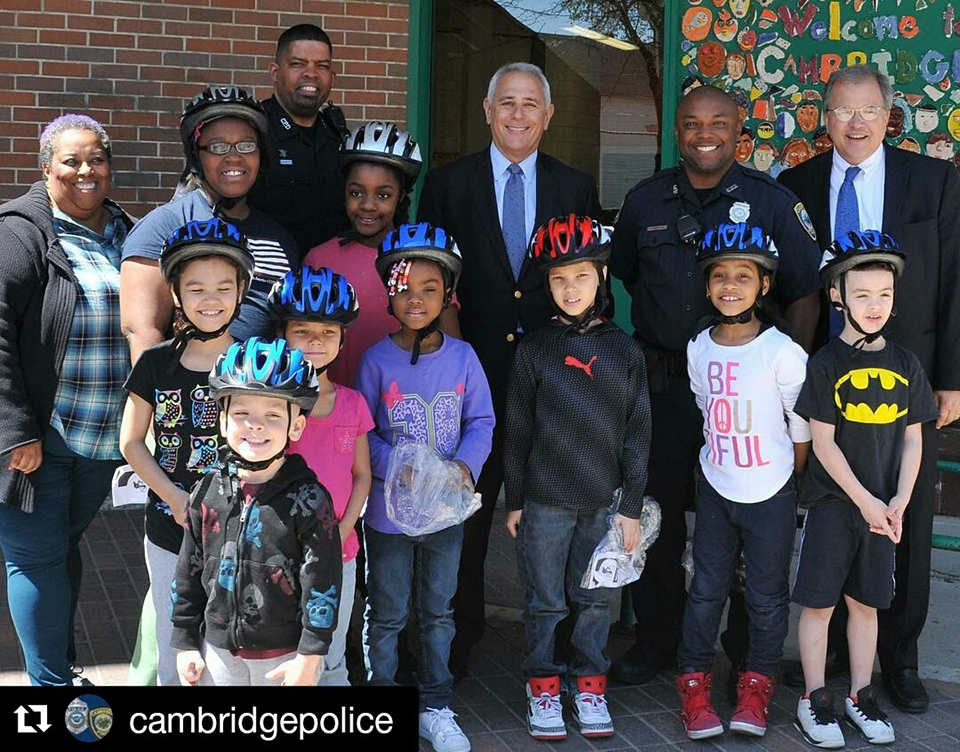 With a donation from Breakstone, White & Gluck, the Cambridge Police Department will distribute bicycle helmets to children who need one during National Bike Safety Month.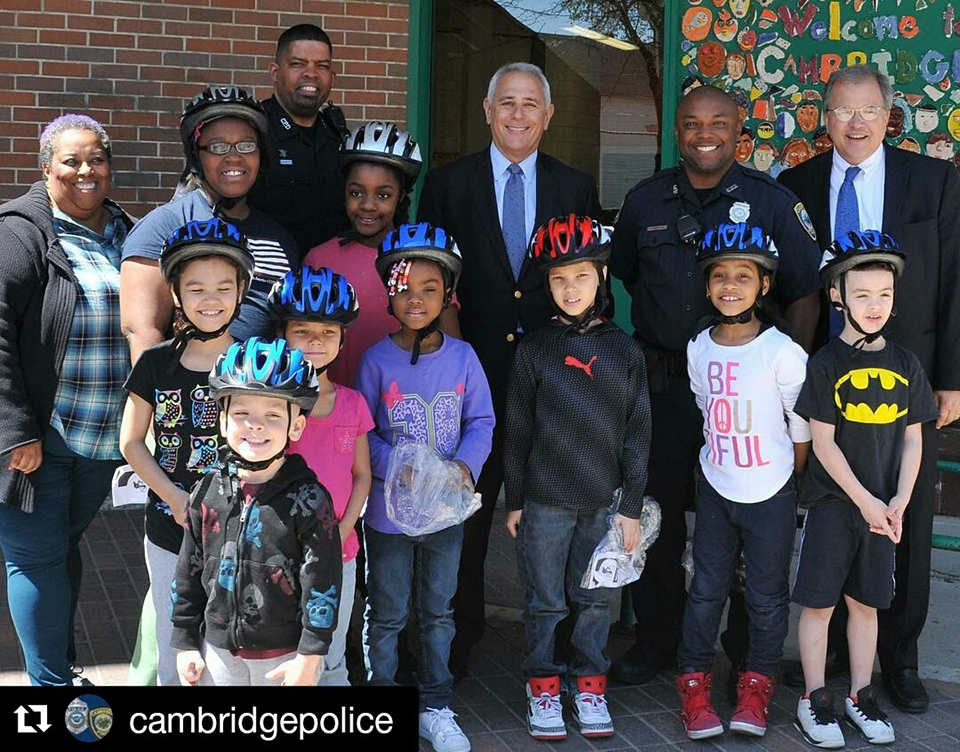 Photo: Attorney Ronald Gluck and David White of Breakstone, White & Gluck gather with children at the Cambridgeport School, Assistant Principal Audrey M. Sturgis and Cambridge police officers Che Santos and Anthony Santiago. Breakstone, White & Gluck was pleased to donate children's bicycle helmets to the Cambridge Police Department for National Bike Safety Month in May 2016. 
Cambridge Police has announced its first "helmet voucher" program as part of its National Bike Safety Month initiatives in May. Police officers will specifically be looking for children who are riding bicycles without a helmet throughout May and hand them a "helmet voucher," which can be redeemed for a free bicycle helmet at the Cambridge Police Department.
Breakstone, White & Gluck donated 140 bicycle helmets to the Cambridge Police in hopes of keeping children safe and preventing traumatic brain injuries from bicycle accidents. The donation was part of our Project KidSafe campaign, which has donated more than 10,000 bicycle helmets to children since 2013.
Massachusetts law requires any person 16 years old or younger riding a bicycle to wear a helmet. By wearing a helmet, cyclists can reduce their chance for head injury by 50 percent, according to the Insurance Institute for Highway Safety.
This is a special donation and Attorney Ron Gluck and Attorney David White joined Cambridge Police at the Cambridgeport School for an unofficial kick off last week. Here are some photos:
Attorney Ron Gluck and Attorney David White join children at the Cambridgeport School along with Audrey M. Sturgis, assistant principal, and Cambridge police officers Che Santos and Anthony Santiago, to kick off the bike helmet giveaway during National Bike Safety Month.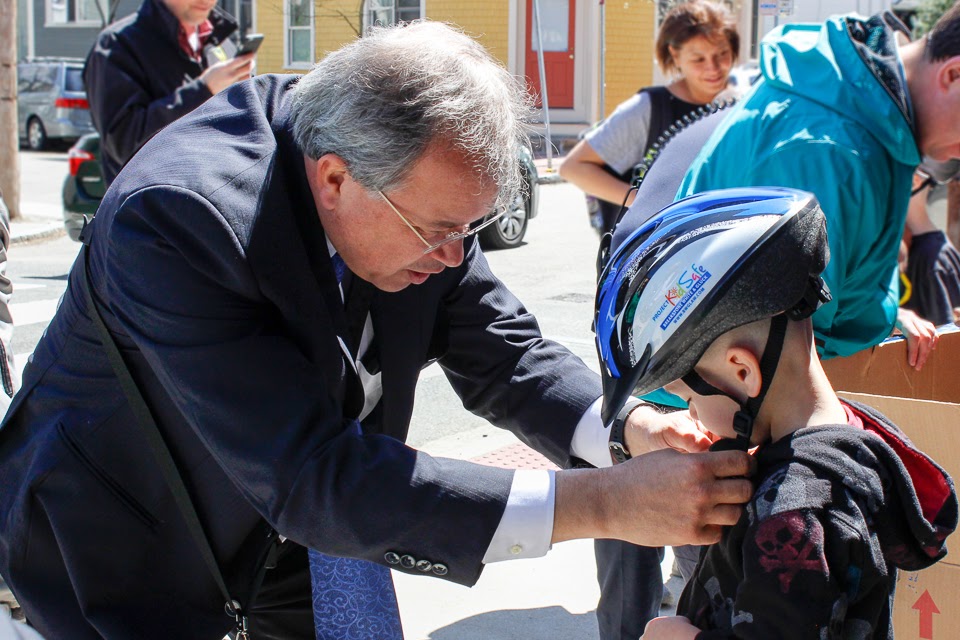 Attorney David White helps a child fit a bicycle helmet.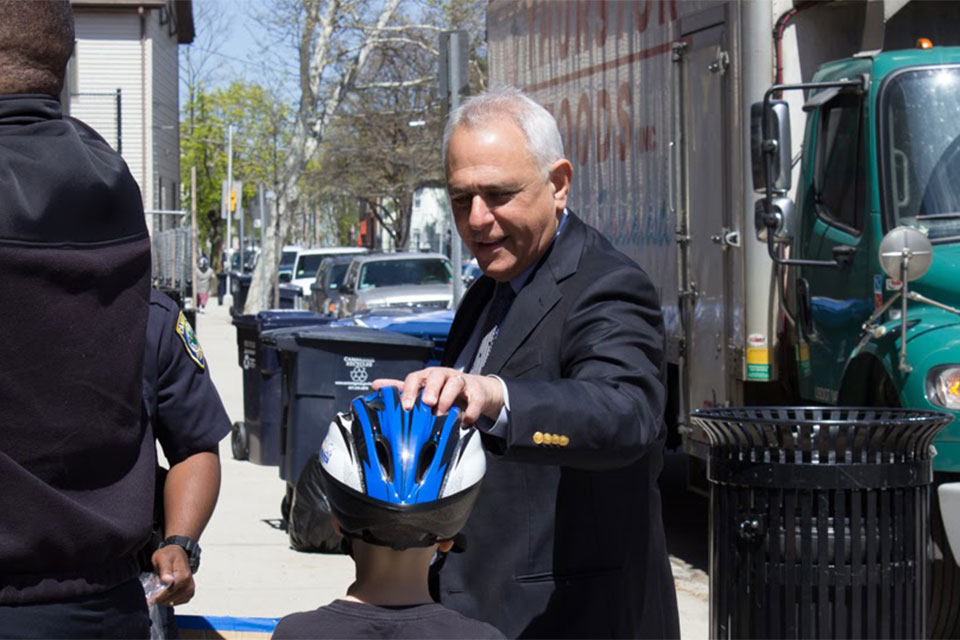 Attorney Ron Gluck finishes fitting a helmet.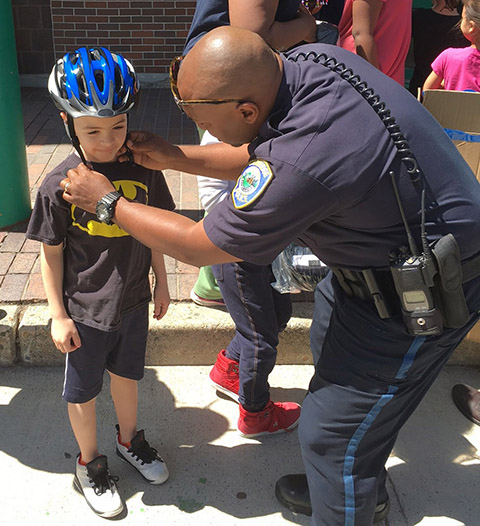 Cambridge police officers will distribute the bicycle helmets – and also show children how to properly fit them.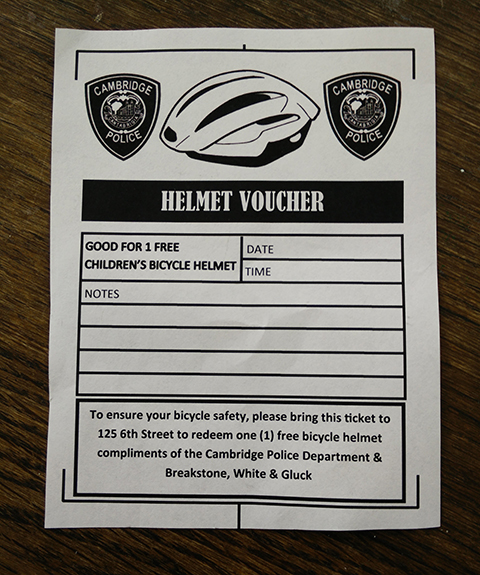 Cambridge Police will distribute these vouchers to children who are not wearing bicycle helmets during May.
For more information on how to properly fit a bicycle helmet, visit our Project KidSafe webpage.
About Breakstone, White & Gluck
Breakstone, White & Gluck is a Boston personal injury law firm which is committed to the safety of all bicyclists in Massachusetts. We have over 100 years combined experience representing bicyclists injured by the negligence of others. If you, or a member of your family, has been injured in a bicycle incident, please feel free to contact us for a free legal consultation at 800-379-1244 or 617-723-7676 or use our contact form. Thank you and RIDE SAFE!