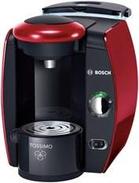 More than 1.7 million coffee makers have been recalled after reports some machines have sprayed hot liquid, leaving 37 people with second-degree burns.
The Tassimo Single-Cup Brewers were recalled Feb. 9 by BSH Home Appliances Corp. of Irvine, California. Some 835,000 machines were recalled in the United States and 900,000 were recalled in Canada. The California manufacturer recalled the defective product voluntarily along with the Consumer Product Safety Commission (CPSC) and Health Canada.
The brewers are defective because they can burst and spray hot liquid and coffee grounds or tea leaves onto consumers. There were a total of 140 reports of the brewers spraying hot liquid. Among the 37 second-degree burns was a 10-year-old Minnesota girl who suffered serious facial and neck burns which required her to be hospitalized.
The defective coffee makers carried the brand names of Bosch and Tassimo Professional Brewers. The Bosch brewers were sold in several colors to consumers between the dates of June 2008 and February 2012 for between $100 and $250. The Tassimo Professional was sold on in black, directly to hotels and food service providers. The brewers were manufactured in Slovenia and China.
Consumers are advised to stop using the recalled coffee makers immediately and contact the firm to order a free replacement T Disc holder part to fix the mechanism. This is the part of the machine that holds the single serve coffee cup.
Consumers can visit www.tassimodirect.com/safetyrecall for the full list of recalled models and to request a replacement part. They can also call the firm toll-free at 866-918-8763.
Click here to read the recall notice from the CPSC.
Read More