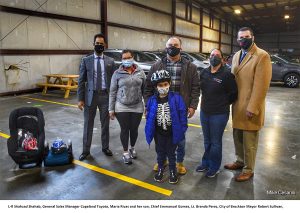 Breakstone, White & Gluck was so pleased to support a family event hosted by the Brockton Police Department and other community partners this past weekend. This was a special event because Brockton Police gave away both free car seats and bicycle helmets to local children and families. The goal was to prevent injuries. Many families struggle to get started with car seats and bicycle helmets and end up using them improperly.
The Brockton Police Department partnered with Copeland Toyota and Buckle Up for Life to give families free car seats. Brockton Police has four officers who are certified child passenger safety technicians. They can speak English, Spanish, Cape Verdean Creole and Hatian Creole. Especially after the pandemic, this event was a good opportunity for parents and caregivers to receive a free car seat, have it installed by a police officer and ask questions.
Breakstone, White & Gluck donated the children's bicycle helmets from our Project KidSafe campaign. Brockton Police helped the children fit their new helmets.
Photo: From left to right, Shahzad Shahab, general manager of Copeland Toyota, then Maria Rivas and her son wearing a Project KidSafe helmet. Center is Brockton Police Chief Emmaneul Gomes, then Lt. Brenda Perez and Brockton Mayor Robert Sullivan on the right.