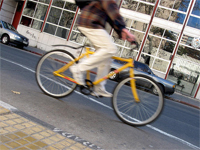 After a long, hard winter, cyclists are finally enjoying a taste of spring weather. All across Massachusetts, bikes are being pulled out of storage, tuned up, and taken back out on the road.
Boston celebrates the return of the nation's premier bike-sharing program, Hubway, which is celebrating its third season in town. The program has now expanded from Boston to Cambridge, Somerville and Brookline. And today, to celebrate opening day for the Red Sox, Hubway is having a Rolling Celebration ride through the cities.
If you are a Massachusetts bicyclist, now is a good time to review some important rules and regulations, as well as some important insurance tips: 
Roads. You can travel on the side of the road or in the middle of the lane. Up to two cyclists can ride abreast in a lane. Many communities also offer designated bike lanes and shared lanes. Turns to the left can, and should, be made from the left-most lane. 
Cars. Cars must give you the right of way; they cannot turn left in front of you unless it is safe to do so; they may not make a right turn in front of you if they have just passed you; they must pass at a reasonably safe distance, or wait until it is safe to do so. 
Sidewalks. You are allowed to ride on sidewalks outside business districts, unless prohibited by local regulations.
Pedestrians. Remember to give pedestrians the right of way and warn pedestrians you are overtaking or passing them. You should have a bell or horn on your bicycle, and there is nothing wrong with a friendly "Passing on your right." 
Bike Helmets. Helmets are required for cyclists ages 16 and younger in Massachusetts, but they are also an important tool for riders of all ages. Head injuries are among the most serious injuries a cyclist can sustain in a bike accident. In 2009, 630 cyclists died in the United States and 91 percent were not wearing helmets, according to the Insurance Highway Safety Institute.
Bike Lights and Reflectors. If you ride in the dark (one-half hour after sunset or one-half hour before sunrise), make sure your bike has lights and reflectors. You must have a white light facing forward and a red light facing backward. Cyclists must have reflectors on their pedals or reflective material around their ankles. You can have as many lights as you like.
Bike Maps. Bike lanes and bike paths may offer safer travel options. Call your local town or city hall and ask if they produce a bike map so you can plan your route. These two are available online: Somerville Bicycle Map and the Boston Bicycle Map.
Bike Parking. You are allowed to park your bike in a bike rack or anywhere on a sidewalk or road, but your bike cannot obstruct pedestrians or motor vehicle traffic. See this map for Boston Bike Parking.
Bike Accidents. If you are in an accident, the most important step is to obtain medical care, even if you do not initially think you are seriously injured. If you are able, take pictures of the position of your bike and the car at the accident scene. Later, file a report with the local police department. Under the law, you must notify the police for any accident involving serious injury or over $100 or greater in property damage. 
Protect Yourself With Adequate Insurance. Believe it or not, insurance on your own car may protect you if you are in an accident. Your car insurance may provide uninsured or underinsured coverage for serious injuries. Read our article, What Every Massachusetts Bicyclist Needs to Know About Car Insurance. Your homeowner's policy may provide coverage for property damage. 
Other Massachusetts Bicycling Resources
MassBike
What to Know About Cycling in Boston
Boston Bikes
City of Cambridge Police Page on Bike Safety
Somerville Bicycle Committee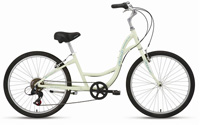 The U.S. Consumer Product Safety Commission announced the recall this week of more than 10,000 defective bicycles after reports the product's frame was breaking.
Fuji Saratoga Women's Bicycles recalled about 10,500 bicycles sold nationwide from November 2007 through December 2011. The bicycles were recalled after the company became aware of 12 reports of bicycle frames breaking. There were two injuries reported, including a head laceration requiring 20 stitches.
The product's defect is its frame was breaking in the center of the downtube during use, causing bicyclists to lose control and fall. Bicyclists are instructed to stop riding and seek a replacement bike frame.
About the recalled Fuji women's cruisers bicycles:
2008 to 2010 models of Saratoga 1.0, Saratoga 2.0, Saratoga 3.0 and Saratoga 4.0. The model type will be printed on the bike.
The bikes come in various colors.
The bikes will have the words "Fuji" and "Saratoga" alone or "Saratoga" printed on the frame.
Serial numbers beginning with ICFJ7, ICFJ8, ICFJ9, ICFJ10 and ICFJ11. The serial number is located on the bottom of the frame near the crank.
The defective products were imported by Advanced Sports, Inc. of Philadelphia and manufactured in China. They were sold at specialty bike shops.
Customers are instructed to obtain a free replacement frame. They can contact Advanced Sports Inc. toll-free at 888-286-6263 between 8 a.m. and 4:30 p.m. Monday through Friday or visit www.fujibikes.com. They can also return the bike to any authorized Fuji Bicycle dealer for the free part.
Click here for more information on this recall.
In a smaller recall, the Mountain Bicycle Handlebar Stem has been recalled in the U.S. and Canada. Some 213 units were recalled in the U.S. and 83 in Canada by the importer, Shimano American Corp. of Irvine, Calif. The defective bicycles were sold at REI stores nationwide from October 2009 to November 2010 for about $120.
The bicycles were recalled because the bolt holding the front plate of the stem to the stem body can be pulled out of the threads while the bike is being ridden, causing the rider to fall. There has been one report of a rider falling and sustaining torso and arm injuries. Click here for more information on this recall.
The Boston product liability lawyers at Breakstone, White & Gluck have over 80 years combined experience handling complex cases involving serious personal injuries, wrongful death and defective products. We have obtained clients compensation in cases involving defective motor vehicles, recalled medical devices and dangerous pharmaceuticals.
If you have been injured, it is important to learn your rights and how long you may have to file a claim. For a free legal consultation, contact us today at 800-379-1244 or 617-723-7676 or use our contact form.