Posts Tagged '"bike share"'
Last month, the City of Everett announced it was joining the Bluebikes regional bike share. This was welcome news for commuters, especially Everett residents who travel into Somerville, Cambridge and Boston. Everett will become the first Massachusetts community to offer both the Bluebikes and dockless bikes.
Everett is also the first community to join the metro-Boston bike share in at least five years. The City of Boston first brought the program – then called Hubway – to the region in July 2011. It began with a fleet of 600 bikes parked at 60 stations within the city of Boston.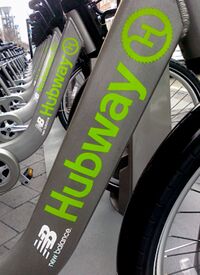 Boston's Hubway bike share program is about to push beyond city limits, with an expansion over the Charles River into Cambridge and other communities starting as early as this week.
The Boston Globe reports the first of 24 new bike kiosks may start arriving in Cambridge this week and should operational by the second week in August. Somerville is slated to receive 12 stations with four planned in Brookline. The city of Boston launched the program in the summer of 2011. It now has 600 bikes for 61 stations and will add 11 new stations. With the expansion, the Boston region will have more than 1,000 public bikes available, The Boston Herald reported.
In Cambridge and Somerville, bike stations will be added at major squares and areas in between. In Brookline, new stations are coming to Coolidge Corner, Town Hall and the Brookline Village MBTA stop.
In Boston, new stations will be placed in Allston, Charlestown, Dorchester and Roxbury. Next year, Hubway may expand into Jamaica Plain, as well as Newton and Arlington, officials told The Boston Herald.
The expansion comes after a first year in which Hubway exceeded all expectations. It has seen twice as many trips and paid subscribers as planned. Over 360,000 individual bike trips have been taken since its start and this summer, tourists and commuters are taking about 2,000 bike trips per day.
The program is operated by Alta Bicycle Share in partnership with Boston Bikes, an initiative of the City of Boston. It is partially funded by the Federal Transit Administration. Outside Boston, each community and Alta Bicycle Share work together on securing grants and sponsorships to fund each bike station, which can cost $50,000.
The program offers Annual Membership for three seasons, which can be purchased online for $85. These members receive a key to unlock bikes for use. Rides under 30 minutes are covered under the membership fee; longer rides incur additional fees. Others can purchase short-term Access Passes for 24 hours or three days.
The Hubway reported few bike accidents resulting in injury during its first year. The program reported no bike accidents requiring ambulance response and only two bike accidents overall. The program's contract requires riders to wear helmets to protect themselves in bike accidents. It encourages this by making helmets available for purchase when you buy a membership. It also has a network of retailers throughout the city who offer discounted memberships.
Related:
Hubway, turning 1, is about to expand, The Boston Globe.
Hubway expansion to bring another 400 bikes to roads, The Boston Herald.
What to know about cycling in Boston, Breakstone, White & Gluck.