Posts Tagged 'bike dooring lawyers'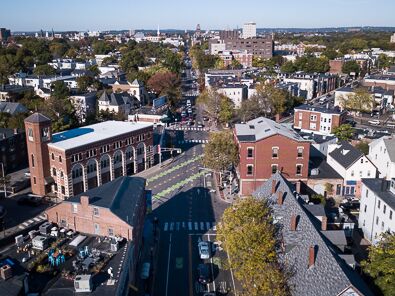 Over the past few years, there has been a growing sense of excitement about safer cycling in Cambridge. With a vote this week, the Cambridge City Council has signaled there is more to come.
The City of Cambridge has many bike lanes, but in 2017, city officials accelerated development of protected bike lanes, which place a physical barrier or extra room and road markings between cyclists and traffic. The city did this with a heavy heart, after fatal bicycle crashes claimed the lives of two cyclists in 2016. One of the cyclists was killed in Inman Square in a dooring crash; the other died in a bicycle collision with a truck in Porter Square.
Then, during 2017, the City of Cambridge rolled out new bike lanes in key travel corridors, including Brattle Street in Harvard Square and Massachusetts Avenue, near Cambridge Rindge & Latin, more than a mile altogether. The city finished the year with 25.8 miles of bike lanes, including 4.2 miles of separated bike lanes, according to a report by Wicked Local Cambridge.
Since then, cyclists and safety groups, such as Cambridge Bicycle Safety, have urged the Cambridge City Council to do more. This week, the City Council approved the Cycling Safety Ordinance, paving the way for more protected bike lanes.
The ordinance calls on the city to add protected bike lanes when roads identified by the Cambridge Bicycle Plan are reconstructed. Once complete, the bicycle plan will create an impressive 20-mile network of protected bike lanes.
The ordinance means residents no longer have to lobby for protected bike lanes when roads are rebuilt. Until now, city officials have had to grant permission on a street-by-street basis or not at all.
There may still be some debate though. The city manager can ultimately veto construction of a protected bike lane based on factors such as a street's physical layout or the costs. If this happens, the manager must document the reason in writing.
Cambridge officials say they are unaware of any other communities in Massachusetts or across the U.S. which have adopted such a far-reaching policy to create protected bike lanes.
We suspect bicycle committees and planners far and wide will be watching. Protected bike lanes improve safety for cyclists, but the impact goes further by giving everyone on the road clear markings to follow. For drivers and their passengers, these markings are visual reminders not to drive, park or open vehicle doors in bike lanes or they could cause a bicycle crash in Cambridge or any other U.S. city.
StreetsBlog reported on a 2012 study on bike lanes published by the American Journal of Public Health. The study found cyclists on streets with bike lanes had a 50 percent lower chance of injury over streets without bike lanes. Meanwhile, protected bike lanes had the potential to reduce injuries by as much as 90 percent, which is a tremendous figure. Even multi-use paths and off-street trails had a lesser impact, reducing injury by 60 percent compared to roads with bike infrastructure.
About Breakstone, White & Gluck – Boston and Cambridge Bicycle Accident Lawyers
Breakstone, White & Gluck specializes in representing cyclists and pedestrians who have been injured by the negligence of drivers and rideshare vehicles in Massachusetts. If you have been injured, the most important step you can take is to learn your legal rights for seeking compensation. For a free legal consultation, contact our Cambridge bicycle accident attorneys at Breakstone, White & Gluck at 800-379-1244 or 617-723-7676 or use our contact form.