Posts Tagged '"bike crashes"'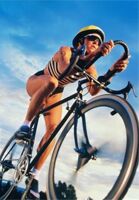 Bay State Bike Week is a good time to remember safety for Massachusetts bicyclists, motorists and all who travel the roads.
Motorists can commit to being vigilant in looking out for bicyclists this summer and slowing down. Bicyclists can ask whether they have taken all possible safety precautions.
These safety precautions must include bicycle helmets. Bicycle helmets are 85- to 88-percent effective in mitigating head and brain injuries in bike crashes, according to the National Highway Traffic and Safety Administration (NHTSA).
Nearly 70 percent of all fatal bike crashes involve head injuries, according to NHTSA figures. But only about 20 to 25 percent of all bicyclists wear helmets.
Individual states govern whether bicyclists must wear helmets. California was the first state to pass a bicycle helmet law in 1986. Twenty five years later, 21 other states have adopted laws aimed at cyclists under age 16. Fourteen states have no helmet laws, though the NHTSA recommends states adopt legislation.
Massachusetts requires helmets be worn by those 16 and younger while operating a bicycle or traveling on one as a passenger. Helmets must be approved by the Consumer Product Safety Commission.
Adults in Massachusetts and other states should not wait for the law to require them to wear helmets. In 2006, 773 bicyclists were killed and another 44,000 were injured in traffic crashes across the country. Children 14 and younger accounted for 98 of those fatalities, making this one of the most frequent causes of injury related death for young children. But the other 675 bicyclists were older and many of them could have also benefited from the protection of a bicycle helmet.
Click here for more information about bicycle helmet laws from the National Highway Traffic Safety Administration.
Read More