Posts Tagged '"ATV accidents"'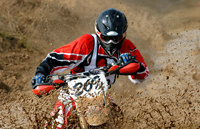 The all-terrain vehicles (ATVs) have returned for summer. If you ride, remember the state of Massachusetts has specialized rules for your operation designed to protect you and others.
ATV riding comes with risks. Each year from 2004 to 2010, the U.S. saw an average of nearly 700 ATV-related deaths and about 136, 000 emergency department-treated injuries, according to the Consumer Product Safety Commission (CPSC). So far in 2012, the CPSC has received reports of 130 adults and 28 children under age 16 who have died in ATV accidents. The agency received reports 17 adults and children died in accidents over Memorial Day weekend.
Riders can benefit from taking a safety course and reviewing the laws. The Boston personal injury lawyers at Breakstone, White & Gluck offer these guidelines and resources:
Safety Course. The Massachusetts Environmental Police offer training classes.
Helmets. Wear a protective helmet specifically designed for ATV riding. Make sure the helmet is approved by the Snell Memorial Foundation or the Department of Transportation (DOT) testing labs.
Register Your Vehicle. You must register your ATV with the Massachusetts Environmental Police if you operate it on private or public property. You must carry proof of registration when riding. Click for more information.
Passengers. If your ATV is a single-operator model, do not carry passengers. For all other ATVs, limit yourself to the passenger capacity.
Public Roads. Do not operate on a public way, unless it is marked and approved for recreational vehicles.
Paved Roads. ATVs are not designed for use on paved roads and their solid rear axles increase the chance of tipping over when you turn.
Young Riders. Sean's Law took effect in Massachusetts in 2010, banning children under 14 from operating ATVs. If you let your children operate, learn the specialized rules in Massachusetts. But also consider having them wait. The CPSC advises that children under age 16 lack the developmental skills to operate.
Training for Riders Under 18. These riders must complete an approved training course on safety. They must carry certification of this course when riding.
Youth on ATVs. Children should never ride an ATV designed for an adult. This is how 90 percent of injuries to children occur.
No Alcohol. Drinking and driving increases your chance of causing an accident and like motor vehicle drivers, it is against the law for ATV drivers.
Safe Riding Areas. Massachusetts offers state forests and parks designated for ATVs and off-road-vehicles. Click here for the list.
Accidents.You are required to report all accidents resulting in injuries, death or $50 or greater in damage to the Massachusetts Environmental Police.
Related:
Snapshot: ATVs per Massachusetts Community, Boston Globe
Does the new Massachusetts child-ATV ban go too far?, Boston Globe
Annual Rise in Summer ATV Deaths Prompts CPSC to Urge Safety on the Trails, Consumer Product Safety Commission
Massachusetts Environmental Police Urge Safe Off-Highway Vehicle Use