Posts Tagged 'attorneyThanksgiving'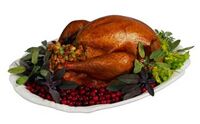 Thanksgiving dinner is the largest meal of the year for many families, the one that takes the most planning and time to prepare. As you work in the kitchen, remember Thanksgiving is also the nation's leading day for kitchen fires and when burns and cooking injuries are more likely to occur. The good news is you can prevent most of these accidents and focus on enjoying the day by following a few simple steps below. We have also included safety precautions for deep frying a turkey.
Make sure your smoke detector is working. Test it in advance and do not disable it.
Use a cooking timer. This will help you keep track of when to check the turkey and when other food dishes are finished.
Stay home while cooking. Stay home and check the turkey frequently.
Cooking stovetop. Stay in the kitchen when you are cooking stovetop. If you must leave, turn the stove off.
Keep children away. Keep children at least three feet away from the stove at all times.
Hot food and liquids. Make sure children also stay away from hot food and liquids, which can cause burn injuries. This includes coffee, gravy and the steam and sauce on vegetables – especially when they first come out of the oven or off the stove.
Neat kitchen. Keep clutter to a minimum near the stove. Set aside oven mitts, towels and other utensils. Do not leave sharp knives or utensils out where young children can reach them. Ask guests to put their belongings in another area.
Keep matches, lighters and candles away. Lock matches and utility lighters in cabinets away from children. Also do not use candles if you have young children in the home.
Use a commercial cooking bag. Do not cook your turkey in a brown paper bag from the grocery store. They are unsanitary and may start a fire.
Tips if you are deep frying your turkey:
Read the instructions. Read the manufacturer's instructions for the turkey fryer before each use.
Understand your propane gas burner. Ask your propane gas provider about safe practices to prevent fires and explosions.
Wear safety gear. Wear safety glasses, gloves which stretch to your elbows, a long-sleeved shirt and an apron.
Deep fry your turkey outside. Set up your fryer in an open area, away from your house, garage, decks and other structures.
Select a smaller turkey. Use a turkey that is 12 pounds or less in size.
Do not stuff the turkey. Stuffing the turkey could interfere with even cooking.
Do not use too much oil. Determine the right amount of oil in advance by placing the turkey in the fryer. Fill with water to the top. Remove the turkey and measure the amount of water remaining. Use the same amount of oil. Your fryer may also have a measurement line inside.
Fully thaw the turkey. Burn injuries can occur when any water on the turkey comes in contact with the oil, then boils over or splatters while being cooked. Fully thaw the turkey and dry it off with paper towels before deep frying.
Turn off the fryer before adding the turkey. Warm up the fryer before cooking, then turn it off just before putting the turkey inside. Start cooking again after it is firmly in place.
Related:
Thanksgiving Safety, National Fire Protection Association.
Cooking Safety, National Fire Protection Association.
Read More