Posts Tagged '"Appeals Court"'
Attorney Marc L. Breakstone was quoted in a front-page Massachusetts Lawyers Weekly article about common law liability for injuries caused by sidewalk defects. The current common-law standard dates back centuries and prohibits many plaintiffs from recovering compensation for injuries. But a recent Appeals Court ruling may have finally set the stage for change.
Attorney Breakstone welcomes the idea. "I think that the common law is a living body of principles that has to evolve as social conditions and the realities of life evolve," he said.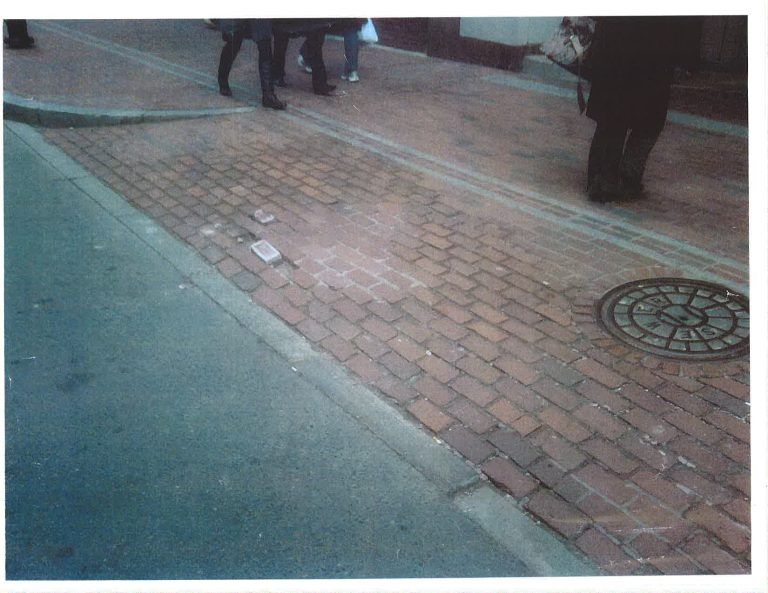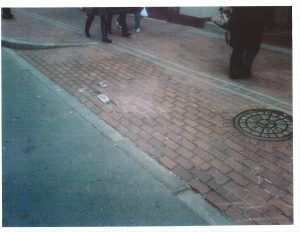 Earlier this month, the Appeals Court ruled in the case of Halbach, et al. v. Normandy Real Estate Partners, et al., concurring that a Superior Court judge had correctly granted summary judgment to the defendant, 100 & 200 Clarendon LLC, which operated, leased and maintained the John Hancock Tower and a neighboring garage in Boston.
The Appeals Court rejected the plaintiffs' argument that the defendant had been negligent in keeping the sidewalk free from defects and had failed to uphold their duty "to ensure a safe pedestrian walkway."
The Appeals Court said the plaintiffs were suggesting "an entirely new duty" not recognized by state common law. The Appeals Court further noted that there is no affirmative duty to inspect and repair public sidewalks or notify the city.
In Massachusetts, cities generally have limited liability of $5,000 for personal injuries and property damage from defective ways, which also leaves plaintiffs who are injured with limited remedy.
Next Steps
In 2009, a man fell on uneven sidewalk after leaving his office at the John Hancock Tower in Boston. He suffered a bilateral rupture of his quadriceps tendon. After the fall, the defendant, 100 & 200 Clarendon LLC, did make some repairs, with no attempt to seek reimbursement from the city of Boston.
The man and his wife filed a lawsuit in Suffolk Superior Court in February 2012 and filed a motion for summary judgment in January 2014.
Appeals Court Judge James R. Milkey wrote that "the plaintiffs have a more forceful case for … a change in the law than the majority opinion suggests."
The Supreme Judicial Court could now review the Appeals Court ruling and decide whether to extend a duty for sidewalks to private owners.
Attorney Breakstone told Massachusetts Lawyers Weekly this would be a "baby step for the evolution of our tort law." It is a widely accepted principle that businesses making a profit from the customers they attract onto their premises have to provide safe egress, he said.
In 2010, the Supreme Judicial Court decision in Papadopoulos v. Target Corp. abolished the common-law distinction between natural and artificial accumulation of snow and ice. In Massachusetts, property owners are now responsible for clearing all areas of their property under the standard of "reasonable care," regardless of whether they created the snow pile or if it naturally formed.
Read the full article on the Massachusetts Lawyers Weekly website. Subscription required for access.
About Attorney Marc L. Breakstone
Marc L. Breakstone has established a reputation as one of the top medical malpractice and personal injury lawyers in New England. His record-setting settlements and verdicts have earned him the distinction of being selected as one of the Top 100 Super Lawyers in New England and Top 100 Super Lawyers in Massachusetts. He has also been selected by his peers as one of the top medical malpractice plaintiff's lawyers in the Super Lawyer balloting. In 2002, Attorney Breakstone was honored as one of ten "Lawyers of the Year" by Massachusetts Lawyers Weekly. More on Marc Breakstone.
About Breakstone, White & Gluck
The Boston personal injury attorneys at Breakstone, White & Gluck have over 100 years combined experience handling personal injury and premises liability cases for those who have been seriously injured. If you have been injured, it is important to learn your rights. For a free legal consultation, contact us at 800-379-1244 or 617-723-7676 or use our contact form.

By Reza Breakstone
In an important victory for an injured mother, the Appeals Court permitted a plaintiff's negligence claim to survive a motion for summary judgment, overturning a Superior Court judge's holding that the recreational use statute barred recovery.
Background
On January 14, 2016, the Appeals Court in Amaral v. Seekonk Grand Prix Corp., No. 13-P-1848, slip op. (Mass. App. Ct. Jan. 14, 2016) overturned the decision of a Superior Court judge which immunized a business from liability for personal injuries under the recreational use statute, M.G.L. c. 21, § 17C(a): "Public use of land for recreational, conservation, scientific educational and other purposes; landowner's liability limited; exception."
The question on appeal arose when summary judgment was granted to the defendant, Seekonk Grand Prix Corp., a go-cart, mini-golf, bumper car, and arcade business, which was sued by a mother who was injured on their premises.
The defendant argued to the Superior Court judge that the mother was watching her two sons drive go-carts, which constituted a recreational activity, when she was injured on the premises. Specifically, a little girl drove through a fence and struck the plaintiff causing a number of injuries including a pulmonary embolism that resulted from a blood clot in her leg. The defendant noted that the mother did not pay a fee to be on the premises to watch her children drive go-carts and was thus barred from recovery under the recreational use statute.
The Superior Court judge, citing case law indicating that the statute provided immunity from liability when a landowner did not impose a charge or fee for an injured plaintiff's recreational use of the land, agreed, and granted the defendant summary judgment. See Seich v. Canton, 462 Mass. 84, 85-86 (1997) (holding municipality's fee to defray expenses for participation in a basketball league did not constitute fee for public use of town land; thus, parent who was injured in a slip and fall while attending daughter's basketball game was barred from action against town); Whooley v. Commonwealth, 57 Mass. App. Ct. 909, 910 (1997) (barring plaintiff from recovery for slip and fall at hockey rink under recreational use statute because she had free use of the rink for the recreational purpose of spectating her grandson's hockey game and she failed to show evidence that grandson's hockey team in fact paid for its use of the rink).

Recreational Use Statute
The Massachusetts recreational use statute provides that those who make their land available to the public for "recreational . . . purposes without imposing a charge or fee therefor, . . . shall not be liable for personal injuries. . . sustained by such members of the public . . . in the absence of wilful, wanton, or reckless conduct by [the landowner]." M.G.L. c. 21, § 17C(a).
On the other hand, § 17C(b) states that "[t]he liability of any person who imposes a charge or fee for the use of his land by the public for the purposes described in subsection (a) shall not be limited by any provision of this section. For the purposes of this section, 'person' . . . shall include, without limitation, . . . [a] corporation, company or other business organization . . . ."
No Definitive Definition of Recreational Use
The Appeals Court in Amaral noted that the term "recreation" was not defined by statute, nor had it ever been defined by the Supreme Judicial Court. Dicta in Catanzarite v. Springfield, 32 Mass. App. Ct. 967, 967 (1992) construed the term "recreation" to include "passive pursuits, such as watching baseball," but the Supreme Judicial Court "prefaced this remark by stating that it had 'never defined the term.'" At least one other Appeals Court case cited the dicta in Catanzarite but "in a manner that leaves in some doubt its own views of the principle." Nantasket Beachfront Condos. LLC v. Hull Redev. Authy., 87 Mass. App. Ct. 455, 465 n.13 (2015).
Appeals Court Decision: Mother's Use Was Neither Recreational Nor Free
On appeal, the Appeals Court noted that the plaintiff's presence on the property was not for a recreational purpose: she was a parent who accompanied minor children, purchased tickets for their use of go-carts, and remained to supervise them. In essence, the plaintiff was using the facility for the recreation of her children, and she paid for that use by purchasing tickets.
The court reasoned that application of the recreational use statute's immunity provision would undermine the very purpose of the statute: "to encourage landowners to permit broad public free use of land for recreational purposes by limiting their obligations to lawful visitors under the common law." Furthermore, the court noted that the mother purchased the tickets for use of the go-carts, tickets which she could have conceivably used herself.
Because the plaintiff was charged a fee for her particular use of the land, her use was not free. Nor was her activity–monitoring her minor children while they drove go-carts–recreational in nature. Therefore, summary judgment was not appropriate. The judgment of the Superior Court was vacated and the case remanded for further proceedings consistent with the Appeals Court's decision.
Conclusion
Individuals should be mindful that their use of land designed for public recreational use, free of charge, comes with the caveat that the landowner may not be responsible for any personal injury absent wanton, willful, or reckless conduct. Always proceed with caution when engaging in pickup sports games, or recreational activities that could lead to personal injuries. If you or someone you know has been injured, do not hesitate to contact the attorneys at Breakstone, White & Gluck, PC of Boston for a free consultation.
About Reza Breakstone


Reza Breakstone joined Breakstone, White & Gluck as an associate in 2015. Reza has earned a reputation as a tough and tenacious litigator helping both individuals who have been personally injured and burgeoning companies who have had insurance and contract disputes. After law school, Reza joined the Boston office of Mintz Levin, where his practice encompassed complex business litigation, federal antitrust defense, and securities litigation.

While at Mintz Levin, Reza received a fellowship to serve as an Assistant District Attorney with the Suffolk County District Attorney's Office, working out of the West Roxbury Division of the Boston Municipal Court. In this year-long fellowship position, he prosecuted a wide range of criminal offenses and gained valuable in-court and trial experience having tried seventeen cases before a judge or jury, and securing convictions in a majority of his trials before a jury. Read his bio.