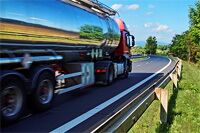 A tractor-trailer overturned and caught fire this morning in Fall River, causing major traffic delays on Route 24 as well as evacuations.
The tractor-trailer, which was transporting 11,000 gallons of gasoline, overturned near Exit 5 northbound. Police report the driver was sent to Rhode Island Hospital with non-life threatening injuries. The truck was owned by J.P. Noonan of West Bridgewater. No other vehicles were reportedly involved. At this time, the cause of the truck accident is under investigation.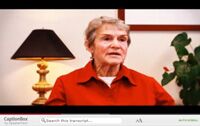 The trial lawyers of Breakstone, White & Gluck have extensive experience representing individuals who have been seriously injured in tractor-trailer accidents. Recently, we have obtained $3 million for a woman who was hit head on by an inattentive operator of an 18 wheeler. Below, an online review from another recent client who was rear-ended by a tractor-trailer and seriously injured:


Today's accident points to the fact that truck accidents are too common on our roads. In 2014, Massachusetts has already seen at least two serious tractor-trailer accidents, including one last week on the Mass Turnpike in Palmer and another in Oxford earlier this month.
The Oxford accident sent two people to the hospital with life-threatening injuries. In 2012, over 3,500 people died in large truck crashes in the U.S., according to the Insurance Institute for Highway Safety (IIHS). The majority – 67 percent – were passenger vehicle occupants. Truck occupants accounted for 17 percent of deaths and the remaining 15 percent of deaths were pedestrians, bicyclists and motorcyclists.
Truck drivers have special licensing requirements and regulations to follow. Trucks are harder to control than passenger cars and have much longer stopping distances. According to IIHS, loaded tractor-trailers take 20-40 percent farther to stop than cars and even more distance in poor weather conditions or if a truck has poorly maintained brakes.
To prevent driver fatigue, drivers of large trucks must follow federal regulations restricting their time behind the wheel. They are subject to federal hours-of-service regulations, a maximum of 11 hours of driving after 10 consecutive hours off-duty, according to the Federal Motor Carrier Safety Administration.
Truck companies must also follow regulations for inspection, repair and maintenance of their vehicles and not operate any vehicle which is likely to cause an accident or breakdown.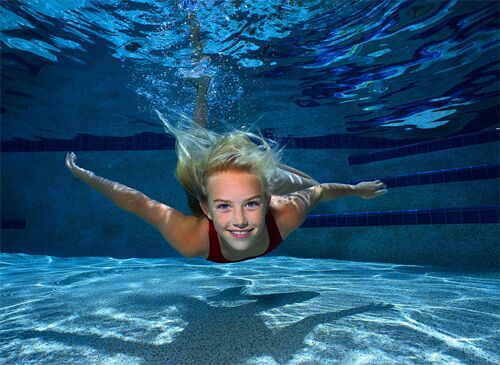 Many of us will spend the last few weeks of summer by the pool, with family and friends, at a slower pace. Relax and enjoy it, but also remember you have responsibilities if young children are around the pool. When a child is left unsupervised, tragedies can happen quickly, sometimes within seconds. In fact, a child who is submerged under water can lose consciousness within just two minutes. Within four to six minutes, permanent brain injury can occur.
This happens too often. Last summer, nearly 140 children in the U.S. died in
swimming pool drownings
between Memorial Day and Labor Day, according to Consumer Product Safety Commission (CPSC) figures. Another 170 children suffered near-fatal incidents in pools or spas. All the children were 15 and under.
Swimming pool drownings are preventable. If parents, family and friends at the pool work together, you can keep swimming a safe and fun experience for young children.
Our injury attorneys share a few safety reminders:
Watch Young Children. Never leave your child alone in the water or near the water. That includes kiddie pools. At the pool, set aside all distractions: your cell phone, magazines and engaging conversation.
Take a Break from Distraction. If you become distracted or fatigued while watching your child, take a break. Ask them to come out of the pool for a little while.
Swim with your Child. Practice "touch supervision" with young children and keep them within reach at all times. As your child gets older, enroll them in swimming lessons. Make a point to get in the pool with them regularly. You can evaluate their strength as a swimmer best from the water and show them how to handle the water around other children.
Swim with a Buddy. Make sure your child knows they must always swim with someone else.
Lifejackets and Floats. Flotation tubes and rafts are not intended to support your children. To give your child extra protection, explore the U.S. Coast Guard website for information on personal flotation devices.
Lifeguards. At community pools, take note of the lifeguard stations and ask how many lifeguards are on-site. But do not rely on the lifeguards. Watch your own children.
Explain the Safety Rules to Your Child. Explain the rules of pool safety often to your child so they understand your priority is to keep them safe.
Not a Parent? If you are not a parent, listen to what your friends or relatives are telling their children. Be aware of their concerns and try to help create a safe pool environment.
Read More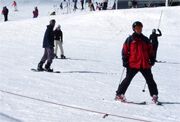 For many, winter is a call to the slopes for skiing, snowboarding and sledding. These activities are great fun, from feeling the wind in your face to enjoying the outdoors to spending time with family and friends.
The fun comes with risks when skiers fail to stay alert and control their speed and equipment. Every year in the U.S., an average of 40 people die in skiing and snowboarding accidents, according to the National Ski Areas Association. Several hundred suffer serious injuries, such as paralysis, head injuries and broken bones.
Our tips for having fun but staying safe:
Wear safety equipment. Helmets are not required by law in Massachusetts and most other states, but wearing one can provide protection in some accidents. If you purchase one, make sure it is specifically designed for skiing and snowboarding and certified by the American Society of Testing and Materials (ASTM) or the Snell Memorial Foundation.
Snowboarders should consider wearing wrist guards. Both skiers and snowboarders should consider goggles for times the snow machines are running or in poor weather conditions.
Use Chair lifts Safely. Pay attention while riding and listen to the ski attendant's instructions, even if you are a seasoned skier.
Take a Class and Ski at Your Level. Lessons from a qualified instructor will help you control your speed. Staying on trails designed for your experience level is also important to preventing skiing accidents.
Practice Etiquette. Remember skiers in front of you have the right of way. If you overtake another skier, try and announce your action and leave enough room for them to make any voluntary or involuntary movement.
Rest. Injuries are more likely to occur at the end of a ski day or the end of a several-day ski trip. Take a few hours or a day off for rest.
Avoid Distractions. Do not listen to music on headphones while skiing or use your cell phone. You could injure yourself but also others by not being able to respond to conditions.
If You Are Injured. Ask the ski facility in advance how they respond to injuries and what they want you to do if you are injured on the slopes.
Related:
Click here to read about a case in which Breakstone, White & Gluck represented a student who suffered a traumatic brain injury in a ski accident. Attorney Ronald Gluck settled the case for $800,000.
National Safety Week, Jan. 19-27, National Ski Areas Association.
Safety Facts & Tips, National Ski Areas Association.
Bill H.638: An Act relative to ski area operations, Massachusetts Legislature.
Read More