Trampolines, Inflatable Slides Among Dangers At Swimming Pool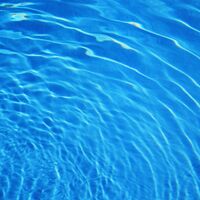 Every year, thousands of people in the U.S. die in drownings. Many of these are young children who drown in swimming pools. Last summer alone, nearly 140 children under age 15 drowned in swimming pools and spa tubs, according to the Consumer Product Safety Commission (CPSC).
While the risk of personal injury and wrongful death from drowning has long been known, new dangers have emerged at pools in recent years. As many homeowners have removed diving boards for safety and insurance reasons, many others are purchasing inflatable slides, sports nets and trampolines to enjoy by the pool.
Two recent Massachusetts cases touch on these risks. Last month, the Supreme Judicial Court ordered a new trial in Dos Santos v. Coleta, where the plaintiff was paralyzed in 2005 when he jumped off a trampoline and struck his head in a two-foot inflatable wading pool. The pool and trampoline were owned by his half brother, the defendant.
The SJC found the trial court judge provided improper instructions when he said the jury could stop deliberating if they concluded the danger of jumping off a trampoline and into the pool was "open and obvious."
The SJC ruled that the trial judge should have also instructed that a property owner is not relieved from correcting such dangers in cases where they can or should anticipate that the dangerous condition will cause harm.
"Because we conclude that a landowner has a duty to remedy an open and obvious danger, where he has created and maintained that danger with the knowledge that lawful entrants would (and did) choose to encounter it despite the obvious risk of doing so, we now reverse," wrote Justice Cordy.
The plaintiff, Cleber Coleta Dos Santos, had been playing with his young son on the trampoline when he attempted to flip off and into the pool at his half brother's Framingham home. He suffered permanent paralysis. His half brother and sister-in-law owned the home, but had moved out a few days prior, leaving the trampoline positioned next to the pool where it could be used in the backyard. The SJC noted that the homeowner disregarded warnings printed on the side of the pool against jumping or diving into the pool.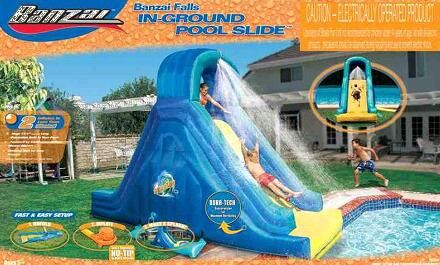 The Banzai inflatable slide is another product which has caused injury and death in Massachusetts in recent years.
You should not see any Banzai slides for in-ground pools this summer. They were recalled in May 2012, after a woman's death in Massachusetts and two reports of serious injury in other states. The inflatable slides were designed to sit on the edge of a pool so swimmers can climb to the top and slide down as water sprays. But the structure easily deflated, removing support for the user. It was also easy to knock down, even without windy conditions.
In 2006, a 29-year-old Colorado mother visiting Massachusetts fractured her neck and struck her head while using a Banzai inflatable slide. When she stepped up and started to slide, there was not enough support and her head hit the pavement near the edge of the pool. The slide had been partially deflated. The woman died the next day at a Boston hospital.
In October 2011, a jury in Salem Superior Court ordered Toys R Us to pay more than $20 million to the woman's family, finding the Banzai slide did not comply with federal safety standards for swimming pool slides. Toys R Us had sold the product to the victim. Amazon.com – the website where the product was sold through – and manufacturer SLB Toys USA settled with the woman's family after the trial began.
In May 2012, Walmart and Toys R Us recalled 21,000 Banzai slides for in-ground pools, asking consumers to return the product for a full refund. Banzai continues to sell inflatable slides and water castles which are stand alone.
Toys R Us recently appealed the case to the Supreme Judicial Court, arguing the the Consumer Product Safety Commission regulation cited by the woman's family does not apply to inflatable pool slides, but only to rigid pool slides.
About Breakstone, White & Gluck
The lawyers at Breakstone, White & Gluck specialize in
personal injury
,
premises liability
and
product liability
cases. We have over 85 years combined experience representing injured clients in Massachusetts, including victims of pool accidents. If you have been injured, it is important to learn your rights. For a free legal consultation, contact us at 800-379-1244, 617-723-7676 or use our contact form.