Study: Teen Driving Accidents Claim More Than 7 Lives Each Day of Summer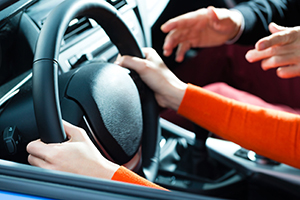 We know many Massachusetts parents regularly talk to their teens about safe driving to prevent car accidents. You should be commended for engaging in this often-stressful conversation.
We urge you to continue on this summer. Helping teens understand the difference between appropriate and unsafe choices and build strong driving skills is a life-long investment in their safety and the safety of others.
Nationwide, teen driving crashes killed more than seven people each day of summer from 2008 to 2018, according to AAA Foundation for Traffic Safety.  AAA recently released the 2020 "100 Deadliest Days" of driving report, once again warning teen drivers and parent to take extra precautions between Memorial Day and Labor Day.
Be aware of the unique risks this summer, AAA says. In response to the COVID-19 pandemic, many summer jobs and activities have been cancelled. With more free time, teens may be driving more. AAA urges parents to read its 2020 "100 Deadliest Days" report, and its Parent Coaching Guide, and to have teens sign a safe driving agreement. With this approach, parents can set clear expectations for teens and refer them to the agreement should they forget. If teens violate the terms of the agreement, they may lose driving privileges for a period of time.
Research on Teen Driving Crashes
Here are a few figures for parents to consider. AAA's research found more than 70 percent of teen drivers age 16-18 had engaged in unsafe and illegal driving behaviors.
Seat belt Use
17 percent of teen drivers admitted to not wearing a seat belt.
Speeding
47 percent of teen drivers admitted to driving 10 mph over the speed limit on a residential street.
40 percent of teen drivers admitted to driving 15 mph on a freeway.
Texting and Cell Phone Use
35 percent of teen drivers admitted to texting while driving.
Other Driving Violations
More than 30 percent of teen drivers admitted to running red lights and aggressive driving. Meanwhile, 25 percent of teen drivers admitted to drowsy driving.
Parents can influence teens on some of these behaviors by developing a teen driving agreement (there are several available on the Teen Driver Source website). Your conversations with your teens are also essential.
Help Your Teen Drive Safely
Help your teen drive safely and avoid a car crash.
Many states have graduated licensing laws, including Massachusetts. Encourage your teen to follow the Massachusetts Junior Operator Law at all times. Under this law, teens are not allowed to use cell phones when driving in Massachusetts, not even under the new Massachusetts "hands-free" driving laws.
When they have a question, encourage them to ask, review their driver's education materials or the Massachusetts Driver's Manual. When drivers understand the law, they are more confident making decisions on the road.
Another opportunity is to drive together. Take turns in the driver seat. When you drive, take the opportunity to show your teen how you follow the speed limit. On a 30 mph street, this means driving 30 mph or less, not 35 or 40 mph. Tell your teen what you are doing and why.
Speed-related crashes are prevalent among teens. Simply slowing down and following other vehicles at greater distances can make a tremendous impact in reducing car accidents. At slower speeds, your teen has more time to stop and if they have a collision, injuries are likely to be less severe. Accident victims are more likely to survive a teen driving accident.
At the same time, parents should understand that when teens speed, they may be intentionally speeding and risk-taking. This is unacceptable. But often, the reason is driver inexperience. Teens need more practice using the gas and brakes, and you may need to explain that traveling "just" 5 mph or 10 mph over the  speed limit is dangerous. In fact, you may need to do this a few times, also explaining that teens are more likely to cause injury when they speed and receive a speeding ticket which will impact their junior license.
To help your teen, be patient. Your goal is to demonstrate safe driving techniques and give them feedback when they make a good decision or make a mistake. Yet, if you are too critical, you will make your teen nervous and reluctant to drive with you. Tread lightly but firmly. It's alright to take a break, but don't stop trying.
Free Legal Consultation – Boston Car Accident Lawyers
At Breakstone, White & Gluck, our Boston car accident attorneys represent those who have been injured by negligent driving in Massachusetts. Car accidents often result in serious and catastrophic injuries, including head injuries, spinal cord injuries, broken bones, lacerations and death. When victims survive, they may require medical care, have to take time off from work and suffer other financial losses.
Always learn your legal rights after an injury. For a free legal consultation, call our car accident attorneys at 800-379-1244 or 617-723-7676. You can also use our contact form.