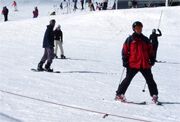 For many, winter is a call to the slopes for skiing, snowboarding and sledding. These activities are great fun, from feeling the wind in your face to enjoying the outdoors to spending time with family and friends.
The fun comes with risks when skiers fail to stay alert and control their speed and equipment. Every year in the U.S., an average of 40 people die in skiing and snowboarding accidents, according to the National Ski Areas Association. Several hundred suffer serious injuries, such as paralysis, head injuries and broken bones.
Our tips for having fun but staying safe:
Wear safety equipment. Helmets are not required by law in Massachusetts and most other states, but wearing one can provide protection in some accidents. If you purchase one, make sure it is specifically designed for skiing and snowboarding and certified by the American Society of Testing and Materials (ASTM) or the Snell Memorial Foundation.
Snowboarders should consider wearing wrist guards. Both skiers and snowboarders should consider goggles for times the snow machines are running or in poor weather conditions.
Use Chair lifts Safely. Pay attention while riding and listen to the ski attendant's instructions, even if you are a seasoned skier.
Take a Class and Ski at Your Level. Lessons from a qualified instructor will help you control your speed. Staying on trails designed for your experience level is also important to preventing skiing accidents.
Practice Etiquette. Remember skiers in front of you have the right of way. If you overtake another skier, try and announce your action and leave enough room for them to make any voluntary or involuntary movement.
Rest. Injuries are more likely to occur at the end of a ski day or the end of a several-day ski trip. Take a few hours or a day off for rest.
Avoid Distractions. Do not listen to music on headphones while skiing or use your cell phone. You could injure yourself but also others by not being able to respond to conditions.
If You Are Injured. Ask the ski facility in advance how they respond to injuries and what they want you to do if you are injured on the slopes.
Related:
Click here to read about a case in which Breakstone, White & Gluck represented a student who suffered a traumatic brain injury in a ski accident. Attorney Ronald Gluck settled the case for $800,000.
National Safety Week, Jan. 19-27, National Ski Areas Association.
Safety Facts & Tips, National Ski Areas Association.
Bill H.638: An Act relative to ski area operations, Massachusetts Legislature.

The Boston personal injury lawyers at Breakstone, White & Gluck are experienced in handling catastrophic injuries from skiing and other recreational sports. If you have been injured, it is important to learn your rights. For a free legal consultation, contact us today at 800-379-1244 or 617-723-7676 or use our contact form.