Breakstone, White & Gluck Receives Nancy King Award for Highest Percentage of Attorneys Participating
Breakstone, White & Gluck has received the Nancy King Award for its 100 percent participation in last year's annual Walk to the Hill for Civil Legal Aid.
The Equal Justice Coalition, which organizes the annual Walk, recently presented our firm with the award. Attorneys Marc L. Breakstone, David W. Whit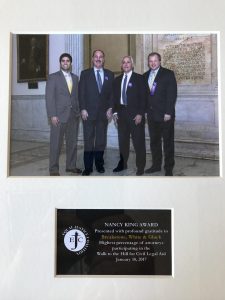 e, Ronald E. Gluck and Reza Breakstone participated last year.
The Walk was held on January 28, 2016 at the State House in Boston. Hundreds of attorneys gathered in the Great Hall to hear from Chief Justice Ralph Gants of the Supreme Judicial Court and Attorney General Maura Healey. Several past presidents of the Massachusetts Bar Association participated, including Attorney David W. White, who served a term from 2007-2008.
The attorneys were then dispatched to speak to state Senators and Representatives and urge them to fund the Massachusetts Legal Assistance Corporation line in the Fiscal Year 2017 state budget.
Last year's campaign was successful, which should provide good motivation for even more attorneys to attend again this year. Governor Charlie Baker approved $18 million in funding for civil legal aid in the final Fiscal Year 2017 Budget of the Commonwealth. This was a $1 million increase over the prior year's funding.
With the additional funding, the Massachusetts Legal Assistance Corporation was able to help more low-income people facing homelessness, domestic violence, gain access to health care and other legal services.
To qualify for civil legal aid in Massachusetts, a family must earn no more than 125 percent of the Federal Poverty Level (or $30,375 a year for a family of four). Despite the increase, the Equal Justice Coalition reports that legal aid organizations are still forced to turn away 64 percent of those eligible because of a lack of funding.
This year, MLAC is seeking a $5 million increase for civil legal aid. To learn more about the event, visit http://equaljusticecoalition.org/.
2016 Walk to the Hill Attendance awards were recently presented to these firms:
• Nancy King Award: Breakstone, White & Gluck (highest percentage of attorneys participating)
• Highest Participation Award: WilmerHale
• Exceptional Support Awards: Foley Hoag and Ropes & Gray
About Breakstone, White & Gluck
The Boston personal injury lawyers at Breakstone, White & Gluck have over 100 years combined experience representing individuals who have been seriously injured in slip and fall accidents and snow and ice accidents caused by a property owner's negligence. If you have been injured, it is important to learn your rights. For a free legal consultation, contact us at 800-379-1244 or 617-723-7676 or use our contact form.