Americans File "So Few" Medical Malpractice Lawsuits, Doctor Writes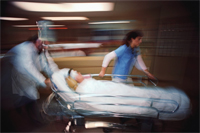 A recent article in The Boston Globe magazine explores the role of apologies from doctors in resolving medical malpractice claims. In the Jan. 27 article, Dr. Darshak Sanhavi writes that the "vast majority of major medical errors never see the light of day," citing data from Harvard-affiliated hospitals which showed only 90 malpractice claims involving children were filed between 2006 and 2010.
"The remarkable thing, therefore, isn't that Americans file too many malpractice lawsuits, it's that they file so few," Sanhavi writes. "Some physicians courageously fess up and communicate with compassion after an error and defuse a patient's anger. At the same time, some appear to sweep errors under the rug."
"This in depth look at the current system reveals that most serious medical errors that result in harm to patients never result in claims," said Boston attorney Marc L. Breakstone. "To the contrary, only a very small number of medical error cases ever get filed and even a smaller number result in some type of compensation to the injured patients or their families. Secrecy and non-disclosure are the real problems with our current system. We need more transparency so that victims of medical errors have an opportunity to get fair compensation."
Article Highlights:
Michigan Model. In 2004, the University of Michigan Health System implemented its "disclosure with early offer" program. The goal of the program was to have impartial medical providers review claims and determine whether medical mistakes causing harm had occurred. If so, doctors and other medical providers were encouraged to apologize to patients in person while the hospital offered prompt financial settlements. By 2006, the program was credited with reducing medical malpractice lawsuits by more than 50 percent and reducing the average time to resolve a claim from 21 months to 10.
Massachusetts "Cooling Off" Period. Last August, Gov. Deval Patrick signed into law a health care cost containment bill that includes measures to streamline medical malpractice claims. Now before an injured patient files a medical malpractice lawsuit, they must wait out a 182-day "cooling off" period, providing time to negotiate a settlement with a hospital out of court. The legislation includes $135 million in grants to help community hospitals adopt electronic medical records systems.
Also last year, a coalition of seven Massachusetts hospitals adopted a "Road Map to Reform" plan. It is more commonly known as the "I'm sorry" plan because medical providers and hospitals are encouraged to provide patients an apology and financial settlement in cases involving medical mistakes. The program includes Mass General Hospital and Beth Israel Deaconess Medical Center and was initially underwritten by $1 million from insurers and a medical group.
CRICO. The Controlled Rick Insurance Company (CRICO) is the not-for-profit consortium which pays claims from Harvard-affiliated hospitals. The Boston Globe magazine article details its role in analyzing records to identify trends of medical mistakes. The model was used in the 1980s by the American Society of Anesthesiologists and resulted in a new standard of care being adopted in 1986. In the 1990s, when many doctors were being sued for failure to diagnose breast cancer, CRICO analyzed claims and offered doctors insurance discounts for learning a new treatment procedure.
Related:
Medical malpractice: Why is it so hard for doctors to apologize? The Boston Globe.
The Michigan model: medical malpractice and patient safety at UMHS.
Patrick signs health care cost containment bill, The Boston Globe.

The Boston medical malpractice lawyers at Breakstone, White & Gluck have over 85 years combined experience handling injury and wrongful death cases. If you have been injured, it is important to learn your rights. For a free legal consultation, contact us today at 800-379-1244 or 617-723-7676 or use our contact form.