MassBike and Light Brigade 2018: Helping Cyclists Be Seen at Night
Breakstone, White & Gluck was pleased to support MassBike's Light Brigade 2018, which delivered bike lights to cyclists who needed a set so they can be visible to drivers. All Photos: Courtesy of MassBike Light Brigade 2018 Facebook Photo Album.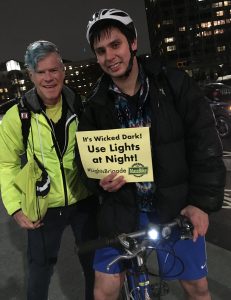 We want to say job well done to MassBike for helping cyclists ride safely at night in Massachusetts. Over the past few weeks, MassBike has been distributing bike lights to cyclists from near and far, shining a light on the importance of staying visible during these dark days of winter.
Under Massachusetts law, cyclists are required to use bike lights from 30 minutes after sunset until 30 minutes before sunrise.  The front of the bike must be equipped with a white light (visible at least 500 feet away), with a red light or reflector on the back.  Drivers must be able to see the rear light from at least 600 feet away.
MassBike is committed to getting lights to cyclists, reaching across 90 miles with this year's campaign. Volunteers have given out lights in Boston, including in the Allston, Jamaica Plain and Charlestown neighborhoods and nearby: Cambridge, Lynn, Newton and Needham. Further west, cyclists in Northampton, Holyoke and Worcester also received lights. We're told there may be more stops.
Breakstone, White & Gluck was a sponsor of MassBike's campaign in 2017 and 2018. Other sponsors of the MassBike's 2018 Light Brigade include Digital Lumens, Cycle Massachusetts and Charles River Wheelers.
More questions about Massachusetts bicycle laws? Read our article, "Quick Facts About Massachusetts Bicycle Laws."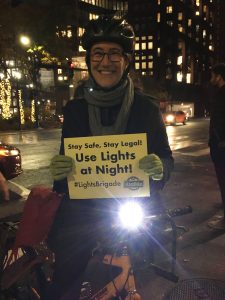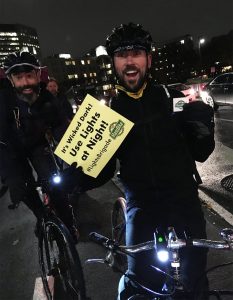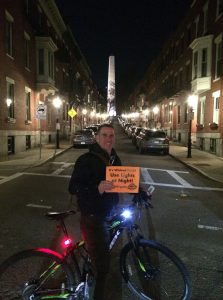 Photos: Courtesy of MassBike Light Brigade 2018 Facebook Photo Album. 
About Breakstone, White & Gluck
With more than 100 years combined experience, Breakstone, White & Gluck is a Boston law firm specializing in personal injury and medical malpractice cases. Our partners founded our firm in 1992 and we have supported bicycle safety the entire way. For more than 20 years, we have sponsored bicycle clubs and organizations in the Boston area (and in some cases, ridden along the way; one of our partners is also a cyclist).
In 2013, our attorneys launched our Project KidSafe campaign, which has now given away more than 20,000 bicycle helmets across Massachusetts. Along the way, we have proudly worked with over 40 community organizations, including Massachusetts Safe Routes to School, more than a dozen police departments and bicycle committees in Milton, Westborough and Framingham. In 2017, we were recognized as a Silver Level Bicycle Friendly Business by the American League of Bicyclists.