Massachusetts Considers Ban on Cell Phone Use While Driving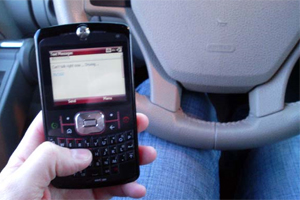 Massachusetts lawmakers will consider tougher laws this week to reduce car accidents associated with cell phone use.
The Legislature's Joint Commission on Transportation will hold a hearing Tuesday to discuss several bills. One proposed measure would only allow drivers to use hands-free cell phones. Another would ban drivers from using any type of cell phone within school zones.
Just nine states and the District of Columbia prohibit all cell phone use while driving. Massachusetts joins 34 other states and the District of Columbia in banning texting while driving for all drivers.
In December, the National Transportation Safety Board (NTSB) recommended a nationwide ban on driver use of portable electronic devices (PEDs) while operating a motor vehicle. The recommendation would ban use of all non-emergency portable electronic devices and the board wants to follow the NHTSA's model of high-visibility enforcement and focused safety communication campaigns. U.S. Secretary of Transportation Ray LaHood is opposed to including hands-free cell phones in the ban.
Texting while driving, cell phone use and other distracted driving behavior causes a large number of car accidents across the country each year. In 2009, 16 percent of fatal motor vehicle accidents involved texting while driving and other distracted behavior. Twenty percent of car accidents resulting in injury involved distracted driving.
Massachusetts' ban on texting while driving took effect Sept. 30, 2010. But Massachusetts, like other states, has found its ban hard to enforce. The law bans texting while driving in a moving car, as well as when behind the wheel at intersections. But critics say it is often difficult to tell whether a driver is texting or dialing a number.
Another challenge is Americans are sending more text messages than in the past. In June 2011, more than 196 billion text messages were sent in this country, a 50 percent increase from June 2009, according to CTIA, the international association for the wireless telecommunications industry.
There is research which shows any type of cell phone use engages a driver enough to create a dangerous distraction. A Carnegie Mellon University study found using a cell phone behind the wheel reduces the amount of brain activity associated with driving by 37 percent. And a study from the Virginia Tech Transportation Institute (VTTI) found that headset cell phone use is not substantially safer than hand-held use.
But when drivers text behind the wheel, they are 23 times more likely to get into a car crash than normal, the VTTI study found. Sending or receiving a text takes a driver's eyes off from the road for an average of 4.6 seconds, which is the full-length of a football field for a car traveling at 55 mph.
Read more about Massachusetts' proposed bans on cell phone use. Read more about the NTSB's recommendation to ban driver use of ban portable electronic devices.

The Boston car accident lawyers at Breakstone, White & Gluck are experienced in handling complex automobile accident claims, including those involving truck accidents, bicycle accidents and pedestrian accidents. If you have been injured, it is important to learn your rights. Call us today for a free legal consultation at 800-379-1244, 617-723-7676 or use our contact form.