Medical Malpractice by Lab Technician Leads to Criminal Charges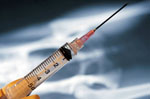 Authorities have arrested a former New Hampshire hospital technician accused of infecting over 30 people with hepatitis C by injecting himself with syringes which were later used to treat patients.
David M. Kwiatkowski, 33, was a traveling technician who worked at Exeter Hospital's cardiac catheterization lab from April 2011 through May 2012, when he was fired. He is accused of stealing syringes containing fentanyl from the lab, injecting himself and refilling the tubes with a liquid such as saline. Patients were then treated with the syringes.
Kwiatkowski told authorities he learned he had hepatitis C in May 2012, but further investigation showed he tested positive for the infection back in June 2010.
Kwiatkowski was arrested Thursday at an undisclosed Massachusetts hospital where he is receiving treatment for an undisclosed condition. He told authorities he has not taken drugs and a syringe found in his vehicle with a fentanyl label did not belong to him.
When Kwiatkowski is discharged, he will return to New Hampshire to face federal drug charges.
Hundreds of Exeter Hospital patients have been tested over the past few months and more are being notified. So far, 31 patients have tested positive for hepatitis C, a blood-borne infection which can cause liver disease and long-term health problems.
Two dozen lawsuits have been filed against the hospital for medical malpractice. A New Hampshire medical malpractice attorney is also representing 90 individuals for a possible class-action lawsuit which would allege medical malpractice and negligent supervision on the part of hospital.
The potential medical malpractice plaintiffs include 30 individuals who still do not know whether they have hepatitis C and another 30 or 40 who tested negative. These individuals have been told they must undergo periodic future testing, take medications for side effects and may not be intimate with their partners.
Kwiatkowski is a "serial infector," said U.S. Attorney John Kacavas in comments reported by the Associated Press. He worked in hospitals in at least six other states and authorities are investigating whether he infected more patients.
The Centers for Disease Control and Prevention has received similar reports of 13 hepatitis C outbreaks at medical facilities between 2008 and 2011, though state and federal authorities have no reporting requirement. At least two of the medical negligence cases have resulted in criminal charges.
Related:

The Boston medical malpractice lawyers at Breakstone, White & Gluck have over 80 years combined legal experience. We have long been recognized as leaders in Massachusetts in the field of medical malpractice because of our thorough investigation, aggressive representation, and innovative trial techniques.