What to Know About the the Graco Child Safety Seat Recall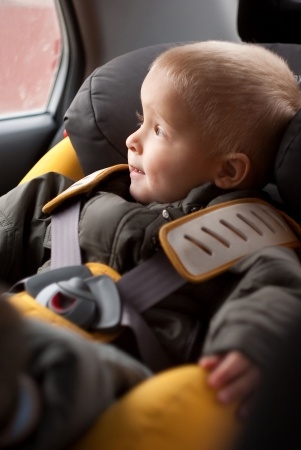 Parents across the country are checking their backseats after Graco issued one of the largest child safety seat recalls in history this week. It may not be the last recall either; the Georgia-based company is facing pressure from the National Highway Traffic Safety Administration (NHTSA) to recall 1.8 million additional seats.
Graco recalled 3.7 million car seats manufactured between 2009 and 2013, the fourth largest recall ever for safety seats and the largest in five years, according to media reports. The NHTSA announced Tuesday that Graco was voluntarily recalling 11 models, though the agency had sought recalls of 18 models. The agency has stated it could take legal action to force the recall of the other models, which are rear-facing models for infants.
The car seats have defective buckles, which can be difficult to unlatch or become stuck. Graco said it was not aware of any injuries resulting from the car seat, but the New York Times reports the NHTSA began investigating Graco in 2012, after parents complained to regulators about having to cut children out of the seats from straps. One parent said it took her 45 minutes to loosen the straps enough to pull her daughter out.
But there is at least one case of serious injury. In a Jan. 14 letter to Graco, the NHTSA noted the company was a defendant in a wrongful death lawsuit in Los Angeles Superior Court in which a two-year-old child was killed in a fire following a car crash. The child was traveling in a Graco Nautilus car seat. The company has said the wrongful death case was resolved by a confidential settlement agreement.
Read the full list of recalled car seats. Parents who have defective car seats can contact Graco for a free replacement buckle. Graco says the seats are safe to use until parents obtain a replacement, but the NHTSA is urging parents to find other seats until they receive the new buckles.
Parents want to be able to trust the car seats, strollers and cribs they use to care for their children. Because these are important purchases, many parents and family members spend time researching and reading consumer reviews on Internet shopping sites such as Amazon.com before purchasing.
These reviews are helpful, as is feedback from other parents. But there are a few other steps parents can take:
Mail in the product registration. You want to make sure the company knows you have its product and need to be notified of any defect or recall and be included in the remedy process.
Do your research. Search the NHTSA database for car seat recalls.
Car seat inspection. Visit this NHTSA website page to search for sites where you can get your car seat inspected. Watch as the certified professional fits your child's car seat and what to watch as you go about your daily driving routine.
Check your product. Remember a few basics about all children products, from toys to car seats. First, make sure they do not have small parts which can easily break and become a choking hazard. Make sure your child can move freely in seats with straps. Make sure the product can fully support your child by reading the age and weight requirements.

About Breakstone, White & Gluck
The Boston product liability attorneys at Breakstone, White & Gluck specialize in representing clients injured by negligence. If you have been injured, learn your rights. For a free legal consultation, contact us at 800-379-1244 or 617-723-7676 or use our contact form.